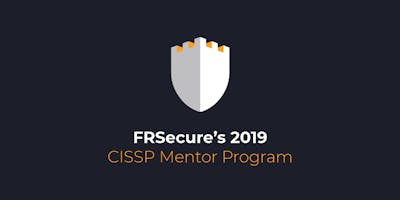 FRSecure's 2019 CISSP Mentor Program
The FRSecure CISSP Mentor Program is back for another year!
FRSecure's goal is to help fix a broken information industry. There are many ways to accomplish this goal, such as setting high assessment standards, using proprietary reporting methods that are easy to understand, and hiring expert talent, just to name a few. One unique approach we use at FRSecure to bring about change in the industry is our CISSP Mentor Program. By design, this program is provided at no cost to any participants.
It is meant to help those with an interest in the information security industry prepare for the CISSP certification exam.
There is no cost for the classes within the mentor program; however, students will need to purchase the textbook and pay to take the CISSP exam.
CISSP Mentor Program
April 8 to May 29, 2019
Mondays and Wednesdays, 6:00 - 8:00 pm CST

Onsite location:
FRSecure
5909 Baker Road, Suite 500
Minnetonka, MN 55345
free onsite parking available
The program is offered onsite or online, and we have limited onsite seats available.
Learn more about the presenters, course schedule and course requirements on FRSecure's website.