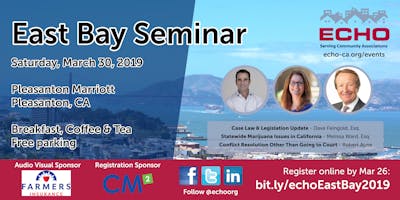 ECHO East Bay Seminar
Register by Monday, March 11th and 

You can win Two Tickets to ECHO's Annual Expo! 

Multiple winners will be selected!


ECHO MEMBER PROMO CODE 
As an ECHO member, you can receive 100% off registration when you use your member promotional code. View instructions on How To Apply your Member Promo Code. 
ONLINE REGISTRATION CLOSES MARCH 26 (12PM)
You must check-in and provide a valid email address during registration in order to receive seminar materials/handouts and event updates. If you are a manager registering a board member, please use their information when registering. Registration is sponsored by


MEET ECHO'S NEW EXECUTIVE DIRECTOR

In early November, the ECHO Board of Directors thanked Tyler Coffin for his long service to ECHO and wished him well in his relocation to Idaho to pursue new opportunities. They were also pleased to announce the appointment of David Zepponi as ECHO's next Executive Director. Previously, Dave acted as President & CEO of the California Association of Community Managers (CACM) where he worked closely with community managers and supplier members to improve the delivery of services, and build dynamic new educational programs. Dave will be available to meet personally with ECHO members at this year's Marin Seminar.
KEYNOTE SPEAKERS
ECHO Educational Seminars feature local HOA experts and professional instruction for board members.
Case Law & Legislation Update
Presented by Dave Feingold, Esq. - Ragghianti Freitas LLP
Our expert speaker will break down the happenings in the Courts and Sacramento and provide useful tips and tricks to take back to your communities.
Statewide Marijuana Issues in California
Presented by Melissa Ward, Esq. - Hughes Gill Cochrane Tinetti
Melissa Ward, Esq. has been representing homeowners associations since 2010 in all aspects of their corporate operations, including governing document analysis, interpretation, revision and enforcement, elections, real property and title issues, special assessments, analyzing and drafting agreements with vendors, and resolution of member disputes. 
Conflict Resolution Other Than Going to Court
Presented by Robert Aune, Mediation and Arbitration Services
Robert Aune began mediating disputes in 1994, and currently limits his work to alternative dispute resolution. He has also acted as a volunteer judge pro tem in the San Francisco Superior Court, conducting settlement conferences and presiding over Small Claims Court proceedings. Mr. Aune also acts as an arbitrator in real estate matters, conducting hearings and issuing rulings often much more efficiently than could be achieved through the court system. As a trial lawyer for more than 40 years in the past, Mr. Aune was listed in the nationally recognized Martindale-Hubbell Law Directory, earning an "AV" rating, the highest possible rating for both legal ability and ethical standards.
AGENDA
*Times are approximate and subject to change
Check-in, Continental Breakfast, Coffee (7:30 AM) *This is a great networking opportunity with Exhibitors & Fellow Board Members. 
Opening Remarks (8:30 AM)
Presentations (8:45 AM)
Prize Drawings (12:20 PM)

PRIZE DRAWINGS
There are 2 ways to enter prize drawings. (1) Give your information to exhibitors at their tables on the day of the event or (2) Opt-in during online registration. View instructions on How to Enter Prize Drawings. Our exhibitors are offering some awesome prizes including a bluetooth speakers to wine & gift cards! 
THANK YOU SPONSORS
ECHO events and low costs for our members would not be possible without the generosity of our sponsors. View a full list of sponsors for this event on our website.
BECOME AN ECHO MEMBER
As an ECHO member, you can attend all our educational seminars for free. Our members are supported with conferences, tradeshows, seminars, a bi-monthly full-color magazine and publications. To become an ECHO member and receive these benefits, visit our website: https://www.echo-ca.org/membership
Interested in Exhibiting or Speaking at an ECHO event?



Exhibitors: Fill out an Exhibitor contract and send to exhibit@echo-ca.org




Potential Speakers: Fill out a Speaker Proposal Form HERE