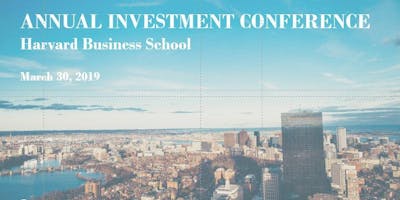 Annual Investment Conference at HBS, 2019
We are delighted to invite you to the Annual Investment Conference at Harvard Business School on March 30, 2019 (Saturday). The conference is a platform for students to hear and learn from distinguished investors and to network with investment management professionals. We are thrilled to announce a great line-up of keynote speakers:
1. Jonathan Jacobson - Founder, CEO and CIO, Highfields Capital Management
2. Edwin Jager - Global Head of Fundamental Equities, D. E. Shaw
3. Pam Holding - Co-Head, Equity Division, Fidelity Investments
4. John McCormick - President and CEO, BAAM (Blackstone's Hedge Fund Solutions Group)
5. Joel Tillinghast - Portfolio Manager, Fidelity Investments
We are hosting the following three exceptional investors to present their current investment ideas:
1. Chris Yetter - 3G Dumont
2. Dennis Hong - ShawSpring Capital
3. Geordie Hebard - Barington Capital (tentative)
We will also host panels discussing the following topics:
1. Equities Panel: Late Stage Cycle Trends in Global Equities
2. Global Macro: The return of volatility, unwinding of global debt and de-dollarization
3. Fixed Income: An inflection points in a 35-year trend? What rising rates mean for fixed income markets and the opportunities created
4. Emerging Markets: Investing Opportunities in Emerging Market investing
5. Eurodollar Fireside Chat: Eurodollar, Monetary Policy and Global Liquidity
6. Equality in the Investment Industry: Promoting equality, representation and tackling pay discrepancies
Visit our website here.
Breakfast and lunch will be served at the conference.
Questions? Please contact Pranay Ranjan (pranjan@mba2019.hbs.edu) or Tony Ji (tji@mba2020.hbs.edu).