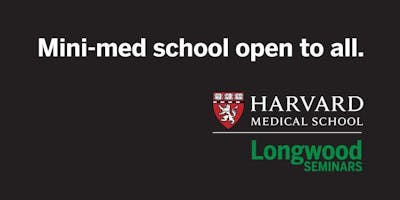 2019 Longwood Seminars: Mini-Med School Program
The program consists of four science and health educational seminars featuring Harvard Medical School faculty and are open to all. Attend three or more to receive a certificate of completion. Public school teachers earn 10 PDPs for attending all four seminars.
March 27, 6:00-7:30 P.M.
Cancer Metabolism: From molecules to medicine
April10, 6:00-7:30 P.M.
Decoding Depression
April 17, 6:00-7:30 P.M.
MD vs Machine: Artificial Intelligence in health care  
April 30, 6:00-7:30 P.M.
Why Sleep Matters
Seating is limited. Seating is not reserved and is available on a first come, first serve basis. Please register here today or call 617.432.3038.
Please request sign language interpretation at least two weeks before the seminars.
For more information please visit the Harvard Medical School website. Registration is only for those planning to attend in-person
FAQs
What does it cost to attend the seminars?
Admission to all of the seminars is FREE. 
Do I need to have taken any classes before attending the seminars?
The seminars are intended for the general public. No prior scientific knowledge is expected. Past participants have included people of all educational levels, backgrounds and ages.
Who do I contact for more information and accessibility?
For more information about the 2019 seminars, including accessibility, please email minimedschool_longwood@hms.harvard.edu or call 617.432.3038. If you would like to request sign language interpretation, please contact us at least 2 weeks before the seminars.
Due to the high volume of calls received during registration, please be aware that we will return your call at our earliest convenience.
What time should I arrive?
We suggest you arrive by 5:30pm on the evening of the seminar so that you have time to check in. 
Where is my ticket?
You can get your tickets by finding your email order confirmation; tickets are usually attached as a PDF file that you can print. If you can't find them, having trouble printing, or not sure if you have an Eventbrite account, enter your email address at eventbrite.com/gettickets. You can also log into the Eventbrite mobile app or reference the Tickets page within your account. 
I am on the waiting list for a seminar. How do I know if I've been accepted?
If a ticket becomes available, you will be contacted automatically with further instructions on how to register. No further action is required.
I am not registered for the event. Can I still attend?
Registration is required, but walk-ins are often accepted. However, walk-ins are NOT guaranteed admittance or seats. What should I bring with me to the seminars?
Please bring an ID and the ticket with you. Even if you are registered, you still need to check in so that we have a record that you attended. You may also want to bring a notepad and pen to take notes.
Please note that no food is allowed in the auditorium.
Do I need to register if I plan on watching the livestream?
No, registration is only for those planning to attend in-person.
Is there food available at the Joseph B. Martin Conference Center?
No food is sold or provided by the event organizers. However, Elements Cafe is open prior to the event, just upstairs from the amphitheater in the New Research Building. There are also a number of cafes and restaurants on Longwood Ave. toward Brookline Ave. 
What type of certification do you offer?
Participants who attend three or more seminars in-person are eligible to receive a certificate of completion. The certificate only states that you participated in the seminars. It does not provide certification in any medical, scientific or educational field.
We do not offer additional certification at this time.
All e-certificates will be delivered via email (PDF) or a printed copy will be delivered by mail (US only). This option is available during registration.
How do I claim my PDPs or CEUs?
PDP/CEU assessment forms are available at the check-in desk at each seminar. You can return those forms, completed, at any subsequent seminar, or you can mail them to the address listed on the form. PDP and CEU certificates will be mailed to your shipping address after the assessment forms are received and processed.
Can I receive a certificate if I watch the seminar videos once they are posted online or if I watch the live streaming?
Certificates are only provided to those who register, check-in and attend in person. We apologize for any inconvenience this may cause.
Can I bring a friend or family member with me to the seminars?
Absolutely, but please make sure your friend or family member registers as well. Walk-ins ARE NOT guaranteed admittance or seats.
What are my transportation/parking options for getting to and from the event?
Directions are available above and on the Harvard Medical School website.
Are the seminars available through a live webcast?
Yes, the seminars will be streamed live online. We will post the link closer to the event date. The stream will begin a few minutes prior to the start of each seminar.
Are the seminar videos posted online?
We record each seminar and post them online for you to watch at your convenience. Please see our video archive for videos of past seminars.