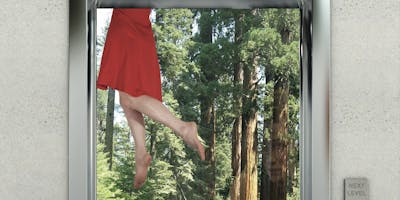 Her Sylvan Ascent
Her Sylvan Ascent


at The Dance Complex, Julie Ince Thompson Theatre


536 Massachusetts Avenue


Cambridge, MA 02139
Friday, March 22, 2019 | 8pm
Saturday, March 23, 2019 | 8pm
ONLINE PRESALE: $21 General Admission, $13 BDA/Student/Senior/Military




PURCHASES AT THE DOOR: $26 General Admission, $17 BDA/Student/Senior/Military
Her Sylvan Ascent is an evening-length piece by Choreographer Jody Weber that challenges us to look deeply at the imbalances within ourselves, and our world, that are manifesting in our climate crisis. The work draws on imagery from the Women's March and deep feminine archetypes that challenge us to re-imagine our power beyond our current materialistic state and look inward. The work was also inspired by the phenomenal book, The Hidden Life of Trees, to consider the way communities might create power and longevity through a deeply connected web of support and mutual care and commitment.
As the piece developed, our world traveled deeper into crisis with the election of leadership that denies climate science and emboldens corporate behaviors that energize a deadly trajectory for humanity. But hope remains in the rise of women and the reclaiming of our power. Hope in the voices of the young who are taking a stand against violence.
Performances by Whitney Cover, Lizbie Harbison, Shannon Humphreys, Caitlin Klinger, Kristy Kuhn, and Jennifer Roberts.
---
Online ticket sales end 2 hours prior to the start of the event.  Pre-registration is only available online via credit card payment.  Tickets may still be purchased at the door, generally for a higher rate, using cash, check, or credit card.

Late seating is at the discretion of the artist and The Dance Complex, and may not be available after the start time of a performance. In general, we advise arriving at least 15 minutes before the show start time. Doors open 45 minutes prior to show, at which time our bar is open in our lobby space.  After the show has begun, entry is not guaranteed and refunds are not available. You may receive a refund through Eventbrite up until 24 hours prior to the event.

Our ground-level lobby area and performance space as well as our second floor Julie Ince Thompson Theater are ADA compliant.  There is a motorized lift that can bring one person at a time from the ground floor to the second floor where our theater is located should a guest wish to use it.  There is no elevator. Accessible seating is available in the first row of our four-row seating area. Steps lead to the other rows of seating. Gender-neutral accessible bathrooms are located on both the ground and second-floor levels of the building.

If you have any further questions or concerns about refunds or ticketing, please contact Kristin Wagner, Front of House Manager, at kristin@dancecomplex.org.  If you have any questions or concerns regarding accessibility at The Dance Complex, please contact Kara Fili at kara@dancecomplex.org.