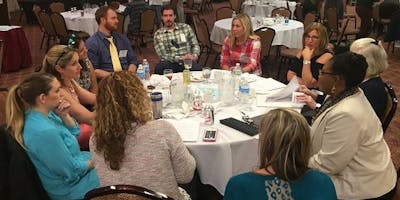 Annual MCB Visions of Collaboration Conference 2019
Annual MCB Visions of Collaboration Conference 2019

Focus on Skills for Success in Work and Life

Pre-Employment Transition Services for Students with Visual Impairments
REGISTRATION DEADLINE: Friday, MARCH 8, 2019, 5 PM!
 No cost to attend. Space is limited. Registration required.
ACVREP Continuing Education (CE)/ Statement of Completion for Professional Credits/ CRCs available.
Who Should Attend: 
TVIs, COMS, MCB Staff, Special Ed Directors, IEP Team Chairs, Guidance Counselors, Transition Professionals.
Please share with others who may be interested.
Conference Agenda:
Registration: 7:30 AM
Networking Breakfast: 8 AM to 8:45 AM
Program: 8:45 AM to 3:00 PM with working lunch.

Contact:
Casey Hall, MCB, Casey.Hall1@massmail.state.ma.us or 617-626-7563.
For detailed agenda please visit MCB's website under Upcoming Events: https://www.mass.gov/orgs/massachusetts-commission-for-the-blind
Please note: MCB will be video recording and taking photos during this event. Anyone that does not want to be a part of the video or photo record should let MCB staff know when they sign-in at the event.