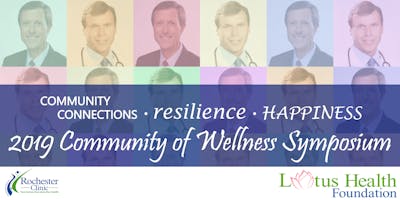 2019 Community of Wellness Symposium
How does the life you live today transform the life you'll lead tomorrow?
Join Lotus Health Foundation the nonprofit arm of Rochester Clinic alongside dozens of wellness experts and community partners for this special event highlighting the latest trends in community lifestyle and behavior medicine. The two-day conference will offer insight and solutions to health using the six lifestyle medicine principles: nutrition, movement, stress management, social connections, passion, and sleep. This well-rounded lifestyle driven conference will connect the dots between healthy lifestyle choices, resilient communities, and individual health and happiness. Whether you are health care providers, public health professionals, employee health leaders, care givers, or health conscious individuals, you will enjoy this life-changing event. 
Continuing Education Units (CEUs) are available through our educational partner, Winona State University.
Breakfast and lunch catered by local businesses.
Keynote speakers: Dr. Neal Barnard, MD and Dr. Neil Nedley, MD
Other Presenters: Thomas Harman, MD; Jengyu Lai, DPM; Malia Ray, MD; Purna Kashyap, MBBS; Carole Jenson, DNP; Kelly Rae Kirkpatrick; Lori Banks, PTA; Letticia Callies, Certified Aromatherapist; Natalie Gentile, MD; Robert Bonacci, MD; Jory Zunich
See Event Schedule