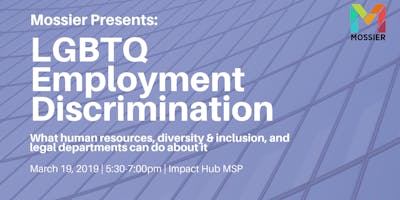 LGBTQ Employment Discrimination (and how to avoid it)
In the United States, you can be legally fired from your job for being LGB in 28 states. If you are transgender, you can legally be fired in 30. Because no federal employment protections for LGBT people exist, many companies have a hard time identifying, working with, and developing LGBT talent. Come learn about how your company can get ahead of these issues by creating a positive lived and legal experience for LGBT hires from the first interview to the first promotion and beyond. A panel of local employment law attorneys will guide you through the legal barriers and what you can do in your current role. Confirmed Panelists Include:
Zaylore Stout: Zaylore Stout and Associates, LLC
Celeste Culberth: Culberth & Lienemann, LLP
Clayton Halunen: Halunen Law | Minneapolis Employment Attorneys
Topics Covered:


Differences in state and federal employment protections


What LGBTQ employment discrimination looks like from both the employee and company side


When is it safe and beneficial for companies to ask employees to self-identify as LGBTQ and what legal barriers exist?


How organizations create a culture where employees want to self-identify and communicate the benefits of doing so?


Intended Audience:


Professionals in legal, human resources, compliance, and/or diversity and inclusion departments as well as LGBTQ business resource group leaders and allies. Students pursuing careers in these fields are strongly encouraged to apply.


This event is the first in a series that Mossier is developing based on a Think Tank in October that was conducted with 15 major corporations in the Twin Cities. There were 13 key issues areas that we distilled from the event but one stood out. Companies cannot legally ask job applicants if they identify as LGBTQ so therefore they are unsure how many they are hiring and whether that individuals are staying at the company long-term, taking advantage of training and promotion opportunities, experiencing disparate rates of employment satisfaction, etc. This event will explore how companies can avoid unintentional discrimination, how they grapple with state/federal discrimination laws that are in conflict, and more. Our goal is to help companies work towards safe and affirming workplaces for ALL. Snacks and refreshments will be served.
Mossier is a 501c3 based in Minnesota that invests profits from events and consulting services into LGBTQ owned businesses in the 72 countries where homosexuality is still criminalized. Read more about our work here.
Building location:  Impact Hub (817 S 5th Ave #400, Minneapolis, MN 55404, https://goo.gl/maps/W2GcyhhRZao). *Please note that IH has moved since its days near Washington Avenue, and is in a brand new building that is not visible on Google Maps Street View yet!
The new space is above Finnegan's pub, so look for the green Finnegan's sign.
Parking: Street parking is on S 9th St, S 8th St, or Portland Ave (any side of the building except for the front). Most meters only require payment until 6pm. If you can't find street parking there's also a few cash-only parking lots nearby, including one at 419 S 9th St, Minneapolis, MN 55404. 
Parking Ramp Options:
*Interstate Parking: 609 S 10th Street
*Centre Village Ramp: 700 5th Ave South
*NRG Parking Ramp: 324 S 9th St

Finding the room: When you walk into the building take a right and you will see the elevators. Take the elevator to the fourth floor (Impact Hub is the entire 4th floor).  If you have trouble getting in, please call Nick (651-341-0514).