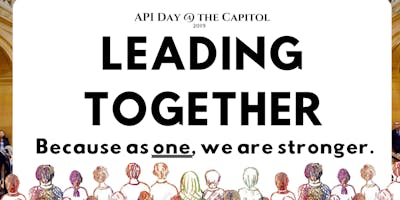 2019 API Day at the Capitol: Leading Together
On March 19th, 2019 the Council on Asian Pacific Minnesotans will be gathering community members from across Minnesota for this year's API Day at the Capitol!
The purpose? Every community member deserves an opportunity to speak with their legislative representative about issues of importance to them.
When we engage, we harness our collective power to shape our individual and collective futures. The Council invites you to join us in the People's House at this year's API Day.
Attendees can participate in one or all of these activities during API Day


Rally   9:00 - 9:30 A.M.


Legislative Training    10:00 - 11:30 A.M.


Legislative Visits    12:30 - 2:00 P.M.


All information will be collected here on Eventbrite. Just choose your ticket type.
Legislative Visit Requests are open until Tuesday, March 5th, 2019.
Rally and Training Registrations are open until Tuesday, March 19th, 2019.
---
RALLY
If you are only planning to attend the rally, walk-ins and day-of registrations are welcome! This event is free and open to the public.
LEGISLATIVE TRAINING OPTIONS



API Nonprofits and Community Leaders - Anjuli Cameron, Research Director at the Council


API Students and Future Leaders - Asian American Organizing Project


LEGISLATIVE VISITS
If you would like to visit with a legislator (highly encouraged), you'll be given the chance to answer during registration. Tell us who you would like to meet with OR the issues of importance to you. This information will help us to best match you with a legislator.
LARGE GROUPS
If you would like to bring a LARGE GROUP (5 or more), we need a bit more logistical information. Please select Register, and then select the "Group" option. You may also email or call our office directly if you prefer to provide us with this information over the phone instead.
---
EMAIL: karina.vang@state.mn.us
CALL:   651-757-1740