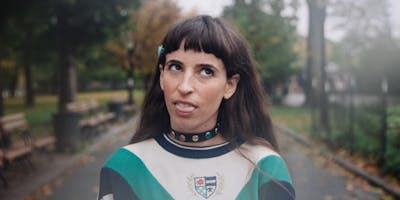 R.L. Kelly, Spencer Radcliffe, Wished Bone
R.L. Kelly
R.L. Kelly is the project of Rachel Levy, native Los Angeles weirdo and punk rock kid at heart. The project began in 2013 as a way to deal with ongoing mental health issues. Big emotions packed into little songs, she's gotta get that sad out and music is key.
As a multi-instrumentalist singer-songwriter, Levy writes and records everything herself and has done so in various forms since childhood. Recording at age 8, she found a handheld mini cassette recorder in her dad's office and immediately the fun began. She would record herself, mess with the speed settings and prank call the heck out of friends and local radio stations.
Her recordings often have guest appearances from friends and music collaborators (Mat Cothran of Elvis Depressedly, Spencer Radcliffe of Spencer Radcliffe, Alex Giannascoli of Sandy Alex G, Warren Hildebrand of Foxes in Fiction).
Levy released her EP "Life's A Bummer" on Orchid Tapes in 2013. Her split with Sandy Alex G was released in 2013 on Birdtapes. Her split with Spencer Radcliffe, "Brown Horse" was released in 2014 on Orchid Tapes.
New music coming in 2019, stay tuned.

Spencer Radcliffe
Spencer Radcliffe has been putting out records for many years now, performing regularly in Chicago with backing band "Everyone Else" and taking the songs out into the world when the time feels right. This Spring, with a new full length bubbling just beneath the surface, Radcliffe will take new songs across the country and  present them in their natural form- voice and guitar.
Wished Bone
Athens, Ohio's Wished Bone is like Joanna Newsom with twice the Appalachian street cred. Their super lo-fi debut, Psuedio Recordings, is as weird as it sounds, but there's an undeniable sweetness and smartness to tracks like "Witty Boys Make Graves," which balance knowing cleverness and openhearted sincerity.