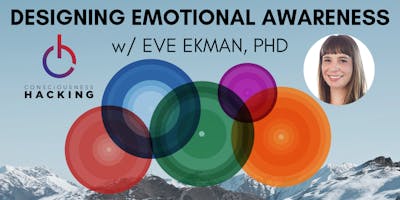 Designing Emotional Awareness w/ Eve Ekman, Ph.D
How can we bridge Eastern contemplative and Western psychological approaches to cultivating balance in our emotions?
Contemplative psychologist Eve Ekman first heard this question posed by His Holiness the Dalai Lama at a 2000 Mind and Life meeting in Dharamsala among renowned scientists and contemplative scholars and it has guided her teaching, research and personal practice ever since.  
Fifteen years later the Dailai Lama asked Eve and her father, renowned emotion scientist Paul Ekman, to create an Atlas of Emotions that could visually guide people through the inner territory of feelings and develop an emotional fluency of states in order to navigate their way towards a calm mind. In collaboration with design firm Stamen, Eve and Paul created this online tool and it launched in 2016. Now in five languages, the Atlas of Emotions is being adapted as a sonic sound journey for the Google IO conference in May 2019.
In this experiential Consciousness Hacking workshop, Eve will share about the journey of visualizing emotional awareness and lead participants through developing a greater emotion vocabulary, embodied meditation of emotion awards, and a hands on mapping of their own emotional episodes. 
---
Eve Ekman, Ph.D, MSW is a contemplative social scientist and teacher in the field of emotional awareness and burnout prevention. She is the co-lead instructor for CEB, an evidence-based emotional awareness training created by her father Dr. Paul Ekman and Buddhist scholar Alan Wallace. Her work has appeared peer-reviewed journals as well as in chapters in The Oxford Handbook of Positive Psychology and The Oxford Handbook of Compassion Science. She does training and consultation for emotional awareness and burnout prevention for private and public sector organizations in the Bay Area and beyond. Learn more about Eve athttp://eveekman.com/.

Do you love Consciousness Hacking? Want free entry to events? BECOME A MEMBER! 
Membership gives us the ongoing support we need to keep Consciousness Hacking going strong! Plus, members get free admission to one CH event per month! Membership is just $10 per month, and If you buy a year of membership upfront, we'll give you two months (that's two events) for free!
Become a member here: https://www.joinit.org/o/ch

Current members: Please register using the discount code emailed to you!
Want to volunteer at this event? Email Josh at meadow@cohack.life for more info. 
No one turned away for lack of funds. 
Photographs and video containing your image may be published by Consciousness Hacking without explicit permission.
**Refunds only available via Eventbrite 7 days or more before the event! You can sell/transfer tickets to friends at face value**