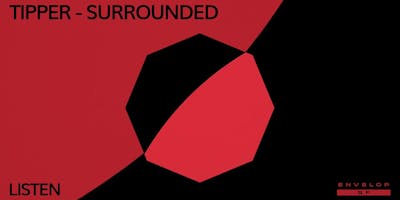 Tipper - Surrounded : LISTEN
8pm General Admission
7:30 PM Doors | 8:00 PM Start
10pm General Admission 
9:30 PM Doors | 10:00 PM Start
Tipper's surround sound master work from 2003 is upmixed for the 32 speaker sphere of sound in Envelop SF. In other words, it sounds incredible. This is one of the best 5.1 mixed albums of that decade, and aptly titled Surrounded. Come ready to dance, move, and be surrounded by this beautiful music. Please note that this is an immersive listening / dance party, not a live performance or DJ set by Tipper.

LISTEN is a series of listening events in Envelop, allowing us to be within the music.
Envelop SF is within The Midway at 900 Marin St, SF CA.
Enter from the Michigan St side of the building, through the patio. Doors close 15 minutes after start time.
All sales are final / no ticket exchanges.
We are a shoeless venue, and there's a place to store your shoes.

Envelop is a nonprofit that amplifies the power of music through immersive listening experiences. 
With 32 speakers surrounding the audience, our immersive sound venues and free open source spatial audio tools, provide a space to deeply listen, relax and reset. We host a diversity of events ranging from spatial music performances and album listening events, to wellness and 3D audio education. Envelop allows us to be inside the music.