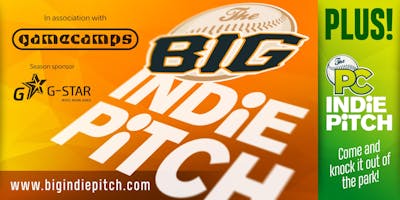 Big Indie Pitch + PC Indie Pitch @ GDC 2019 with Game Camps
The Big Indie Pitch and PC Pitch are returning to GDC week. Come join us for networking and pitching, as we once again put the spotlight on some of the world's best indie developers this March in San Francisco – and stick around to make more connections thanks to the developer drinks after the pitch winners are announced!

The event is brought to you with sponsorship from our friends at Game Camps. The next Game Camp event is... in San Francisco during GDC week! It's the day before the Big Indie Pitch - see below for details.
For Big Indie Pitchers: you'll need an Eventbrite ticket to come along, spectate, drink, network and look at games. To actually pitch, you'll need to register on our site: see details below.

The unique speed-dating format gives each developer four minutes with each panel of experts, meaning entrants will get real feedback from the event. There's editorial coverage in Pocket Gamer and beyond on offer, making this a great chance to get you, your studio and your game played by the world. Alongside the chance to potentially win one of our bespoke Indie Prizes which allow the recipients access to a range of Steel Media's advertorial and consultancy services.
What? How? Who?
It's dead simple. We're inviting indie developers (mobile or PC) along to pitch their game projects to our teams of tame journalists, publishers and pundits.
Approximately 20 teams will run the gauntlet, giving their all in quickfire four-minute pitches to demonstrate that their title is worth of the crown, prizes, and coverage in the games media.
The evening concludes with drinks and chat, so bring your business cards.
Come along!
To register for the Big Indie Pitch at GDC 2019 then simply head over to our REGISTRATION PAGE and log your details. (You may have to register to PG.biz if you haven't yet.) If your game is for PC instead, here's the PC REGISTRATION PAGE.

We'll then review the entries, and inform the finalists if they're successfully confirmed to take part. Please note that all entrants must be able to attend the event and Steel Media will not cover costs associated with getting to it. Deadline for submissions is Wednesday, March 13th (all approved pitchers will then be emailed confirmation).

The event is completely FREE so sign up as a developer to let us know you're coming BUT be sure to sign up/come early as space is limited. If you don't get into the competition, you are of course more than welcome to still come along and check out the competition, and then stick around for our networking drinks afterwards.

Oh and if you're not sure what to expect, then you can check out photos from previous San Francisco activities! 

Game Camps
Our sponsor for this event is the Game Camps. These are recurrent events for individuals and businesses that are working with game development, or wish to do so. Basically, it is a Game Jam with a substantial focus on the aspects of enterprise and entrepreneurship. It's a great opportunity to meet new people within the industry, show off your skills and learn what it takes to create a game from start to finish. On Monday March 18th there's a Game Camp taking place: Silicon Valley Pitching Event 2019.