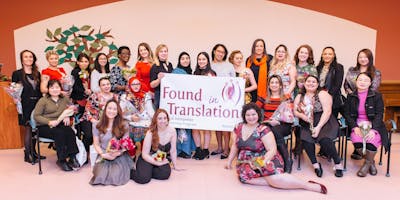 Information Session - Quincy
Found in Translation is excited to announce that the application for Class of 2019 of our Language Access Fellowship program, which provides medical interpreter training and job placement to low-income bilingual women, will open the week of February 25th, 2019!
Please check our website - www.found-in-translation.org - for the latest updates.
The program is completely free, includes common-sense supports such as on-site childcare, transportation assistance, and mentoring, leading to jobs that pay $25+/hour entry-level. Our admissions process is highly competitive; in the Class of 2018 there were 37 women selected from over 250 applicants. To be eligible for our program, an applicant must self-identify as a woman, be fluent in English and another language, be eligible to work in the United States, and be considered low income. For more details on our eligibility criteria, please see our website.
Our selection process is based on economic need and factors that we believe will lead to success in our program and in the medical interpreting profession (including language skills and motivation). We encourage repeat applicants, and we give them special consideration in our selection process – some of our most successful graduates were repeat applicants!
To accommodate our large pool of applicants, we will be holding public informational sessions for potential applicants to learn about our program and ask questions. (Due to a high volume of applicants and our small staff, unfortunately we cannot meet with individuals one-on-one.) Staff will be present to answer questions after a brief overview of the program and application process. Graduates from past years will also be present at some sessions to speak about the challenges and rewards of the program. Everyone is welcome, and we highly encourage anyone considering applying to attend an information session since it is a chance for us to meet applicants in person before reviewing their applications. 
If you have any questions about the program or application process, or would like to set up an in-house information session at your organization, email Gaye Gentes, Program Director at gaye@found-in-translation.org.
Please share this information with whoever you feel is appropriate. More resources and the application itself can be found at www.found-in-translation.org.