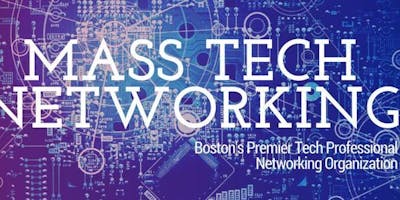 Our March Networking Event & Vendor Showcase w/ Mass Tech Networking
Mass Tech Networking  would like to invite you to our September Business Networking & Vendor Showcase Event at Industrious Financial District in Boston from 6:00pm - 8:00pm on Tuesday, March 19, 2018.   

All technology professionals are welcome whether you are simply working on building your network, looking for business leads, looking for a new job or just like to meet people.

The event has a limited number of free tickets so we ask that if you register, please plan to attend.
Here is the agenda for our event:
- 6:00pm 6:30pm - Networking
- 6:30pm -6:45pm - Jeff D.to provide some Mass Tech Networking Updates
- 6:45pm - 7:15pm - Mark Aiello of Signature Consultants - Navigating the Uncharted Cybersecurity Career Path
- 7:15pm - 7:30pm - Attendee Elevator Pitch - as time allows
- 7:30pm-8:00pm - More Networking
So come and bring your techie friends, a smile, and lots of business cards and make some great connections. Even if this is your first networking event, your hosts will make sure you make some great connections and feel very welcome. The goal is to build a great referral network for you for your success.

Transportation Options - 5 Minute Walk from South Station./ $9 Parking at Post Office Square Garage (after 4pm)
Finally we would like you to join the Mass Tech Networking and AIMC Business Solutions groups/Business Pages on Linkedin and Facebook.
Overview of presentation for the attendee registration page and promotion:
With a growing shortage of qualified workforce, it's a pivotal time for the cybersecurity profession to define its value and claim its space within the corporate landscape. From entry-level to C-suite – do you know what you're worth and how to maximize your earning potential? What are the KPIs, accomplishments and degrees or accreditations needed to advance your career?​
Biography:
Having more than 30 years of IT and cybersecurity consulting/staffing experience, Mark joined Signature Consultants, one of the largest IT Staffing Firms in the U.S., to lead, build and cultivate the cybersecurity talent and workforce throughout the organization's 26 locations, serving 100s of clients throughout North America. Former President of Cyber 360, a leader in cybersecurity staffing, he harnesses his expertise in the cybersecurity/information security labor market to deploy and support a vast network of cybersecurity professionals. His passion and purpose – keeping companies safe by providing cybersecurity consultants and employees.​