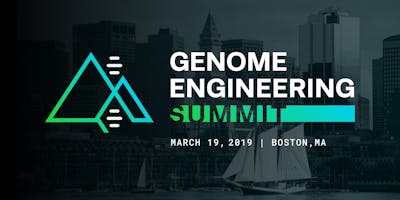 Genome Engineering Summit, Boston
Genome engineering can drastically impact our lives in a way that wasn't feasible before. With the advent of CRISPR, genome engineering has the potential for research that can help create cell and gene therapies that can impact millions of people. But all of this won't be possible if we aren't sharing, listening, and learning about advances in genome engineering.
Please join us for our inaugural Genome Engineering Summit on March 19th: a unique event dedicated to the strong community of Genome Engineers, scientists, and researchers interested in this rapidly evolving field.
Hear from industry leaders and pioneers, including Lin Wu, Ph.D. (Director of Harvard Genome Modification), William Hendriks, Ph.D. (Instructor in Neurology at Harvard Medical School) and Jonathan Gootenberg, Ph.D. (Researcher at Broad Institute), as they share how they are utilizing genome engineering with iPSCs and mouse models with CRISPR to accelerate their research.
Experts in the genome engineering field who attend will:
Gain a deeper understanding of the current genome engineering methods and applications
Learn how key industry pioneers are directing their next steps for CRISPR-based genome engineering
Enjoy breakfast, lunch, and networking session with fellow Genome Engineers
Agenda
9 AM - Check-in, Networking, and Breakfast
9:30 AM - Introduction
9:40 AM - Lin Wu, Ph.D. - Mouse Genome Editing Using CRISPR/Cas9 Technology
10:20 AM - William Hendriks, Ph.D. - Genome Editing Tools for iPSC-based Disease Modeling
11:05 AM - How to Accelerate Your Research with Engineered Cells
11:30 AM - Omar Abudayyeh, Ph.D. & Jonathan Gootenberg, Ph.D.
12:15 PM - 1 PM - Lunch, Networking, and Q&A