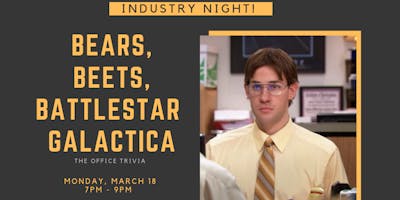 The Office Trivia - Industry Night!
Threat Level Trivia Night!

Work in the service industry? Always busy on the weekends? We have a night for you!!
Come join us as we host The Office Trivia night!! Win your own version of The Dundees as The Office comes to JX Event Venue for a trivia night based on the fictional show! Play to win fun prizes, beets and more!
Bring your team, or come solo and get matched with a team (or play solo too!) Sip on drinks with our full cash bar and win prizes for best dressed character!

IMPORTANT INFO:
Tickets: $10 per person
* Groups can be anywhere from 1-10 people total.

Doors 5:30pm | Trivia: 7:00pm - 9:00pm 

***

Pre-purchasing tickets is highly recommended!