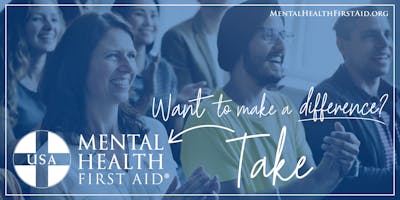 Mental Health First Aid – March 18 and 19, 2019 – Richmond
Like CPR, Mental Health First Aid prepares participants to interact with a person in crisis and connect the person with help. The training offers concrete tools and answers key questions like, "What do I do?" and, "Where can someone find help?" 
This course is appropriate for anyone who wants to learn how to help a person who may be experiencing a mental health related crisis or problem. Topics covered include anxiety, depression, psychosis, and addictions. Course participants come from a variety of backgrounds and use the skills learned from this training in their daily lives, including within their own families, workplaces, and communities.
Attendance to both sessions required to receive certification. 
Monday and Tuesday
March 18 and 19, 2018
Each session: 9am - 1:30pm
Registration is free.