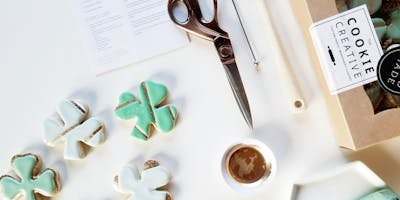 St. Patrick's Day Cookie Decorating Workshop
Learn the art of royal icing with cookie decorator, Cori Robinson, the artist behind The Cookie Creative. In our beginner to intermediate royal icing skills class, we'll share our expert tips for creating beautiful custom cookies, from baking to decorating using only plant-based ingredients. You'll leave the class with all the skills and knowledge you need to start making your own sugar art at home. 

In this 2.5 hour class, you'll learn to:

1. Bake the perfect sugar cookie
We'll share with you how to roll and bake the perfect blank canvases for your sugar art creations. Learn how to achieve uniformity in thickness and consistency and cookies that not only hold their shape through the baking process, but taste great too!

2. Work confidently with royal icing
Mixing the perfect royal icing can be easy if you know what to look for. We'll share our best recipes, tips, tricks, and show you how to achieve the perfect consistency icing for piping, flooding, brush work and creating beautiful mulitdimensional designs. 

3. Color-mixing and matching techniques 
If you've seen our cookies, you know we're sticklers for achieving beautiful design with the truest most brilliant colors. Whether you want to match a palette you found on Pinterest or the exact colors in a wedding invitiation, we'll show you how to expertly match any pantone color out there using just edible dyes. 

4. Create a custom holiday themed cookie set
We'll take you through our cookie design process step-by-step so you can leave with your own hand-decorated cookie set.* Learn to create our signature designs. All supplies included.

*Cookies prepared in class are for decorative purposes only. Workshop RSVPs are non-refundable but can be transfered to friends or family members.