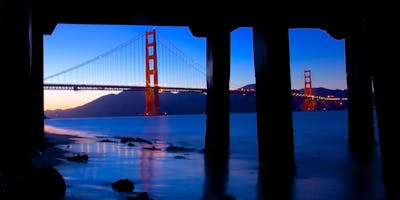 2hr Photography Walk next to GG Bridge (San Francisco)
*** Must have taken our 3hr Beginners Class before registering for this walk.
How hard is it to get a unique photograph of The Golden Gate Bridge these days?
Please join us on a two-hour, light stroll next to San Francisco's beloved, Golden Gate Bridge. Whether you are a San Francisco veteran or a visitor exploring SF for the first time, you will find that the bridge is always most powerful during twilight, better known as the "golden hour." 
It will be a small class of 5-15 people. We will teach you how to stop relying on automatic, and get those shots worth framing!  You will  be able to apply concepts you learned in class like long exposures, depth of field, aperture, shutter speed, rule of thirds and metering. You'll never want to use the "automatic mode" again. 
Any specific questions about equipment will be answered. Please bring your camera, lens/lenses and a tripod, if you have one (not mandatory). Once you register, you will receive more details about where to meet.
Have more questions? Please shoot us an email for a quick response. We only post dates about a month in advance, so please check back later for more dates.