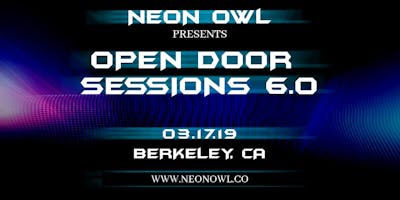 Neon Owl Presents: Open Door Sessions 6.0 - Berkeley, CA
FIRST ROUND OF GUESTS ANNOUNCED FOR OPEN DOOR SESSIONS 6.0, MORE COMING IN THE NEXT WEEK! GRAB YOUR TICKETS BEFORE PRICES GO UP!

MIXING & MASTERING 101
THE NITTY GRITTY OF MUSIC BUSINESS
MAKING IT AS A PROMOTER + PRODUCTION COMPANY
DEMO LISTENING PARTY 
MORE TBA!!!
GUESTS ANNOUNCED SO FAR:
Bruce Mac Vaughn of Fierce Animals record label and Dark Star Audio - production/mixing/mastering

Matthew Whitlock of Northern Nights Music Festival and EPIC Productions
Staniel Promsworth of Back 2 Basic Productions
MORE TBA!!!
There will be 2 opportunities to win gigs for upcoming bay area shows! The first will go to the producer with the BEST DEMO and the second will be raffled off from our efforts to raise money for www.generosity.org! Generosity is a non-profit organization which builds wells for clean water in developing countries. 
What is Neon Owl and Open Door Sessions? 
Open Door Sessions is a community focused on giving back to the music community and next generation of rising producers, creatives, and entrepreneurs. Neon Owl has spent nearly 4 years creating inspirational content while connecting artists and fans to help charities around the world. We have work with a lot of artists/brands like Andrew Rayel, Emma Hewitt, MaRLo, TranceFamily SF, Groove Cruise, Feenixpawl, ARTY, BEAUZ and many more.
Through our efforts, we have supported many non-profits like The Fender's Music Foundation, generosity.org, Boys & Girls Club, AIDS WALK, Apollo Aid Foundation, Whet Foundation and many more. We're also all about creating positive, inspirational content, getting to know artists beyond the music, while discussing causes that are close to their hearts. In the process of growing our community, we realized how much aspiring artists are struggling to receive the support, knowledge, resources and community needed to keep pushing forward in an already competitive industry. Somewhere along the line in this journey, we decided that we really wanted to add a heavy focus of artists and creatives development to the work we do at Neon Owl, and there came the birth of Open Door Sessions.
These are in person events where we have established brands, founders, radio hosts, DJs, producers and other influencers in the industry to come teach/share with the next generation of up and coming in the dance music industry. We've had artists like MaRLo, RAM, St. John along with brands like Northern Nights Music Festival, TranceFamily SF, EPIC Productions, Halcyon, 1015 Folsom and more come to talk about everything from the art of DJing, production lessons to marketing and branding 101.
Each Open Door Sessions also has a demo listening party, creating an opportunity for artists to get their tracks listened to, critiqued by industry influencers. Since launching Open Door Sessions over a year ago, magic has been created among the attendees and our community. From countless booked gigs, networking opportunities, partnerships, to tracks signed onto major labels like Armada and Grotesque, we have had attendees travel the distance to be a part of such an intimate setting.
For more, visit: www.neonowl.co