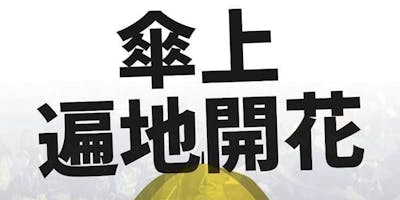 「傘上:遍地開花」放映會 Screening of "Umbrella Diaries: The First Umbrella"
《傘上:遍地開花》 從社運人士及參與運動市民的角度出發拍攝。從當年六四燭光悼念開始,到 「九、二八」數萬名示威者在政府總部外佔領包圍,影片跟隨著運動中的每個細節、每個高潮起伏,帶著觀眾進入了整場運動的動作核心。 「雨傘運動」是那年夏天香港難以磨滅的烙印。本片見證了香港民主如何遍地開花。
本片是第55屆金馬奬最佳紀錄片的入圍影片。亦是佔中九子案証供之一。本片全長120分鐘,粵語旁述,中英文字幕。
我們很榮幸邀請到《傘上:遍地開花》導演梁思眾及前學聯秘書長/雨傘運動學生領袖周永康,在放映後分別以視像及親身為與會者作分享。
---
梁思眾(James Leong) 曾聯合導演過五部獨立紀錄長片,獲多個影展選映,包括加拿大的Hotdocs、荷蘭的IDFA 及日本山形等電影節。他的首部長片《Passabe》記錄了東帝汶的真相與和解,獲 「 Sundance Institute 紀錄片基金」支持。2006年的第二部紀錄長片《曙光球隊》(Homeless FC) 及 2013年的《烏坎》(Wukan: The Flame of Democracy),均在香港的華語紀錄片電影節中奪得最佳紀錄長片大獎。
評論/訪問/相關新聞:
1. 《傘上:遍地開花》(上):超級詳實的傘運日記
2. 「要定論傘運成敗仍是太早」專訪 《傘上:遍地開花》導演梁思眾
3. 庭上播紀錄片《傘上:遍地開花》回顧9.26至9.28畫面眾人落淚
備註:場地提供純為紅本城社區服務,此服務並不作為紅本城對此活動及其講者言論的贊助或背書。
---
"Umbrella Diaries: The First Umbrella" charts the origins of Hong Kong's Umbrella Movement through the eyes of the activists and ordinary people who made it happen. From the June 4th Candlelit Vigil until September 28th, when tens of thousands of protestors occupied the streets outside Government Headquarters, this documentary puts us at the heart of the action, allowing viewers to experience the highs and lows of that remarkable summer, when Hong Kong witnessed a "blossoming of democracy".
"Umbrella Diaries: The First Umbrella" has been nominated for Best Feature Documentary at the 55th Golden Horse Awards.  It was also presented in the trial of 9 Occupy Central leaders.
The documentary is 120 min in length, with Cantonese narration and Chinese/English subtitles.
Post screening panel discussion guests:
James Leong: Director of "Umbrella Diaries: The First Umbrella" via Skype
Alex Chow:  Former secretary-general of the Hong Kong Federation of Students and student leader of the Umbrella Movement.
---
Director's Bio
James Leong's documentaries have screened at festivals such as Hotdocs, IDFA and Yamagata. Passabe (2004), about truth and reconciliation in East Timor, received a grant from the Sundance Institute Documentary Fund. Homeless FC (2006) won the top prize at the Chinese Documentary Festival in Hong Kong. Wukan (2015) was awarded Best Feature at the Freedom Film Festival and the Chinese Documentary Festival, and received a special mention at the Dubai International Film Festival.
Disclaimer:
The meeting space is provided as a community service by the City of Redwood City. The City neither sponsors nor endorses this event nor the presenting individual or organizations.