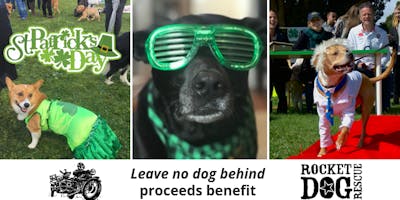 St. Patrick's Day Dog Parade with Doga
You're invited to the St. Patrick's Day Dog Parade at Patrick's Park - the largest annual event at Patrick's Park! 
Picnic at the park and celebrate St. Patrick's Day with these party animals. This event gives 100% of the proceeds to Rocket Dog Rescue, an all volunteer-run organization based in San Francisco that saves dogs - including the one that started this pawade  #PatrickJameson.
The mission of this event is to celebrate and support the lives of all dogs. 
You down dog? There will also be DOGA (dog yoga), led by Move with Mairin at 1pm with some canine c-list celebrities as we attempt to meditate amongst the mayhem of the mutts.
Then have your moment with your mutt on the red carpet - there will be a panel of thought leaders there from the canine community to award trophies to the best-dressed dogs. 
We'll have prizes and surprises. We've partnered up with a few of our favorite canine companies to raffle off gifts like Jiminy, dog treats made from sustainable cricket protein and Cuddle Clones, that could replicate your pet and turn it into a stuffed animal (not literally). You'll also have a chance to win a DoggyBiome kit given by AnimalBiome. We'll have a kissing booth for dogs and humans brought to you by Dig, a dating app for dog people, as well as an animal communicator there to interpret the thoughts of our precious pets.
Schedule


1:00 PM DOGA - Dog Yoga


2:00 PM Longest Human Tunnel Record Attempt 


2:30 PM Canine Costume Contest


3:30 PM Rescue Raffle Winners 


P.S. Remember, please keep the park clean - Ranger Thomas put in trash receptacles. Thanks!