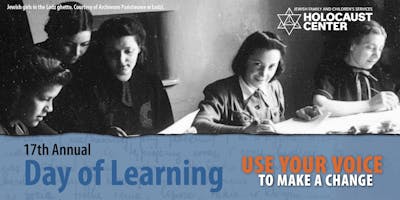 Day of Learning 2019
At JFCS Holocaust Center's Day of Learning, students in grades 7 - 12 and teachers from all public and private schools throughout California are invited to gain a deeper understanding of the Holocaust and patterns of genocide in order to inspire moral courage and social responsibility in the future. 
The many workshops include eyewitness testimonies from survivors of the Holocaust or genocide. The Day of Learning program is free and a light lunch is provided.

 The Day of Learning is a program of the JFCS Preisler Shorenstein Institute for Holocaust Education. Our 2019 partners included: The Athenian School, Anti-Defamation League, Congregation Emanu-El, Congregation Sinai of San Jose, Facing History & Ourselves, The Genocide Education Project, The Helen and Joe Farkas Center for the Study of the Holocaust in Catholic Schools at Mercy High School, JFCS YouthFirst, Jewish Partisan Educational Foundation, Kehillah Jewish High School, Lehrhaus Judaica, Moreau Catholic High School, San Benito High School District, San Francisco Unified School District, and Stuart Hall High School.
The JFCS Holocaust Center is funded through the generous support of individuals, foundation grants, and program fees. See our funders >