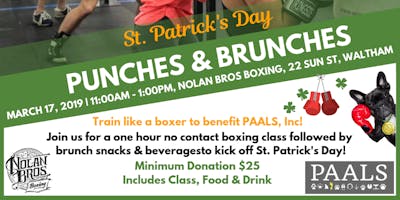 "Punches and Brunches" St. Patrick's Day Boxing Class
Join us for a boxing conditioning class for all experience levels! During class, Nolan Bros. Boxing coaches will show you the punches and you'll work a heavy bag the same way a boxer does. You'll do lots of punches combinations, burning calories and adding muscle! We'll also add in plyometric and calisthenic exercises to give you a full body workout! Whether you're a seasoned athlete or someone who hasn't been to the gym in years, this class is for you!
11-11:15 Registration & Hand Wrapping
11:15-12:15 Class
12:15-1:00 Stay for an optional bite to eat & beverages
Please note that a waiver is required for this event per Nolan Bros Boxing policy, and can be filled out prior to the event. Simple visit the link below and click "sign our waiver". Waivers will also be available on the day of the event.