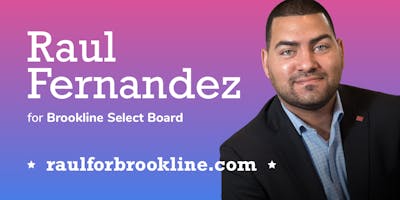 Raul for Brookline - Campaign Kickoff Party
We need you!
Raul Fernandez is running for Select Board to help build a more inclusive, innovative, and progressive Brookline – one that brings new voices and ideas to the table. 
Please join us as we kick off our campaign to get him elected!
Bring a friend to mingle, meet Raul, and get to know your neighbors. We'll provide appetizers and there will be a cash bar.
The event is free, but we encourage you to make a donation at raulforbrookline.com now or when you arrive at the event.
Sunday March 17, 2019 from 3 pm to 5 pm
Hops N Scotch, 1306 Beacon Street, Brookline
Hosted by: Committee to Elect Raul Fernandez
Questions? Contact: teamraul@raulforbrookline.com