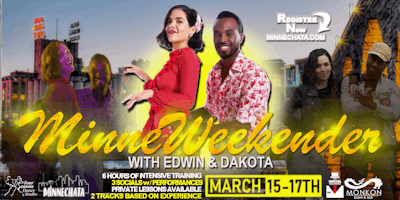 MinneWeekender w/ Edwin & Dakota
We are super excited to welcome guest artists Edwin Ferreras & Dakota Romero to Minneapolis for our next MinneWeekender! Together, Edwin and Dakota founded Areíto Arts, named after the all-in-one Taíno word for rhythm, song, dance, and gathering. Areíto Arts is an educational dance company, focusing on Afro-Carribean rhythms and roots. Their aim is to educate students on the history, culture, development, and growth of Afro-Caribbean Arts! This is their first time visiting Minneapolis. You don't want to miss this opportunity.
Two tracks - pick the track that best matches your level of experience
BLUE TRACK =  *improvers/intermediate
RED TRACK = *intermediate/advanced
Each track is limited to 20 couples (40 people in each track)
$85 all access pass (includes all socials)
$20 for Friday & Saturday socials
$10 for 1 social (Fri or Sat)
Sunday social FREE
Friday
9:30 pm Intro Bachata Lesson
10:00 pm Social Dancing & Performance
Saturday
12-2pm
Bachata Roots and Development Multimedia Presentation
Meet and greet. Set learning goals and expectations.
History, Musicality, Dance Roots, Guided Practice.
Bachata vía Bolero 
Dance roots of bachata focusing on timing, framework, points of connection, and basic shapes and figures.
BREAK (2-3pm)
3-5pm
Bachata Core Body Movements 
Learning the fundamental movements for footwork, hips and upper body. Also focuses on the various rates of turns/rotations and the fundamentals of partnered connection.
Social Dance Guided Practice 
Putting everything into practice and perspective with music for self-learning.
9:30 pm
Intro Bachata Lesson
10:00 pm
Social Dancing & Performance
Sunday
Intermediate Track (12-2pm)
Bachata Regional Styles 
Following the development of bachata as found within the Dominican Republic offering insight on various styles found through the major regions.
Footwork and Musicality with live instruments (Bongo & Guira) 
Pattern based workshop which offers ideas for some of the most popular and versatile footwork and syncopated steps found in bachata culture as well as fun variations. Includes guided practice on interpretation of the three rhythms found in Bachata (derecho, majao, mambo).
BREAK (2-3pm)
Advanced Track (3-5)
Bachata Partnerwork and Timings –
This workshop dives deeper into the versatility of the dance, offering turn patterns and creative variations including rotations while also learning and practicing dancing comfortably on all 4 timings.
Experiencia Dominicana –
This workshop offers a full burst of energy featuring the two most popular Dominican rhythms, Bachata & Merengue (the national music of DR). The class will cover advanced footwork and partnering that can be applied accordingly to each genre and will help guests distinguish the rhythms and be able to apply all previously learned material and concepts.
8:00 pm
Social Dancing @ Monkon with Performance
*Improvers/Intermediate -
The BLUE track is for dancers who have a minimum of 1 year bachata experience and/or familiarity with the basic steps in 4/4 timing (e.g. step, step, step, tap). Knowledge of directionality is important at this level (e.g. the basic step can move side to side, forward & back, on a diagonal, in a circular pattern, in place, on a v-step.) Knowledge of basic syncopated rhythms & fundamental body movements is also suggested. The blue track will apply these fundamentals to patterns, footwork, common bachata rhythms, points of connection, and framework.  This track will move at a MODERATE pace.
*Intermediate/Advanced
The RED track is recommended for dancers who have at least 2 years of bachata experience and/or a strong grasp of the basics including directionality, musicality, and syncopations. This track will move at a FAST pace and dancers will be expected to learn and integrate material on the spot. The aim of the RED track is to challenge the more experienced dancers with concepts and techniques that will help you to fine tune the art of social dancing and elevate the craft.