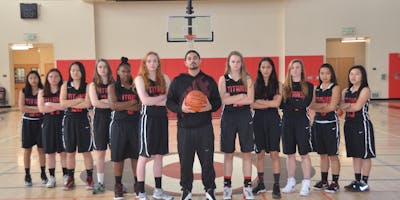 2019 Teach1 AAU Girl's Traveling Basketball Team
Looking for a basketball program that can help your daughter achieve her goals, build friends, and character?
Available Teams
---
2nd-3rd
4th-5th
6th
7th-8th
9th-10th
Tryouts are Feb. 25, 2019 7pm (location announced one registered)
Specific location will be emailed when you register.
8 Tournaments for Elite Spring $1000/Summer $700


4/6- 4/7 Bay City Spring Classic San Francisco


4/27-4/28 NBBA San Rafael


5/4-5/5 Top Flight Elite San Jose


5/18-5/19 Bulldawgs Daly City


5/25-5/27 Memorial Reno


6/8-6/9 Battle of the bay Walnut Creek


7/5-7/7 Las Vegas Convention Center


7/13-7/14 Jamtown Summer Splash Oakland


5 Tournaments for Recreational Teams Spring $600/Summer $500


4/13-4/14 Mission College


4/20 Mission College Saturday ONLY


5/11-5/12 Mission College


6/8-6/9 Gunn HS Palo Alto


7/13-7/14 Mission College


5 months of 2 practices a week, optional league against boys, and minimum of 8 weekend tournaments. The girls will be traveling Memorial Day weekend RENO, Las Vegas and LA in July.
When are practices?

Each team will have two practices a week
Girls Grades 6th/7th/8th/9th/10th will be Mondays 630pm-8pm and Thursdays 7-830pm
Girls Grades 2-3 and Grades 4-5 Tuesdays 530-645pm/Thursdays 530-7pm
Specific times to follow after registration.
How do the weekend tournaments work?
There will be two games Saturday usually AM games and Sunday will be 1 game depending on how we do Saturday per tournament.
There will be a minimum of 8 tournaments. Including Reno, Las Vegas, and LA.