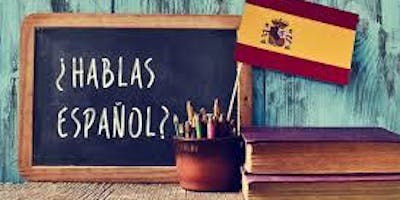 Level 2. ADVANCED BEGINNER SPANISH SPRING 2019
Textbook: Pensar y Aprender, Libro 2,  FRANCO ESPOSITO, Editorial Los Mayas. 
Geared for those who have some basic introductory knowledge of the Spanish language.  We will quickly review the conjugation of –ar, –er, and –ir verbs.  We will learn the present progressive, the preterit and reflexive verbs. We will practice simple conversations and learn more of the Spanish language and culture. Prerequisite: a beginning Spanish class or a basic knowledge of Spanish, e.g., knowledge of the alphabet, numbers, noun-adjective agreement, use of the irregular verbs ser, estar, tener, ir, gustar, and the conjugation of regular verbs in the present tense. Materials will include mental health resources as appropriate.
Class Dates: Wednesdays 4:00 pm - 5:50 pm


Enero: 9,16,23,30


Febrero :6,13,27


Marzo: 6,13,20,27


Instructor: Diana García-Martínez, BS, MSc, dvgarcia@alum.mit.edu
 Diana Garcia Martinez, MSc. is TEFL certified with over 12 years of experience teaching languages including Spanish, French, and English as a Second Language. Currently, Diana teaches Spanish at the Boston Language Institute and the Needham Community Education program where she receives outstanding reviews. She completed her undergraduate studies at the National Polytechnic Institute in Mexico City and obtained her Master's degree at MIT.
REGISTRATION:  To reserve your spot please register below and SEND a check to Diana Garcia-Martinez for $75 (non refundable deposit, goes towards tuition) by January 4th.  Address:  534 Charles River Street, Needham, MA 02492.  You can also hand in a check to Dr. Mari Carmen Bennasar (third floor, space 314).
Tuition: Minimum of 4 students at $400.00/student
For each additional student, the tuition will be reduced by $30.00; i.e. 10 students tuition= $220.00/student.  Final payment is due second day of class. 
Any questions contact Mari Bennasar, Director of LMHP at mari_bennasar@williamjames.edu and in subject write "SPANISH CLASSES"