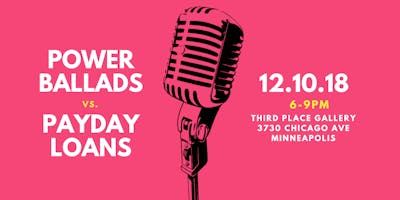 Power Ballads vs. PayDay Loans
Many people in our community–friends, neighbors, family–take out a payday loan because they can't afford not to – they're Working Hard for the Money, with little margin for error or emergency. Unfortunately, this type of loan exploits folks who don't have a safety net or access to more affordable types of credit. Payday lenders succeed in part because they make borrowers think, I'm All By Myself 
The interest and fees accumulate, making participants wish They Could Turn Back Time. The reality is: the fees are designed to keep Building Up, Buttercup. The way these loans are structured is Poison for our communities.  
Exodus Lending exists to tell payday borrowers: Don't Stop Believing! It's possible to escape from the payday loan debt trap. 
Join us for a night of power ballads against pay day loans in support of this work on Monday, December 10th. We'll sing some songs, eat some snacks, drink some beverages, and raise awareness about payday loans and their impact on our neighbors, friends, and family members. 
We can't be Holding Out for A Hero – we have to work to find solutions to the payday loan debt trap within our communities.
Nothing's Gonna Stop Us Now!