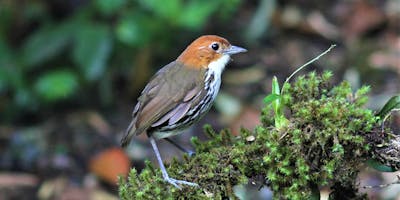 Global Birding: Colombia
Colombia – so many kinds of habitat, so many species of birds (the most of any country)... and for so long not available to birders because of civil unrest. Internal political problems have been resolved, making Colombia a premier birding destination. In our November gathering, Larry Sirvio will show photos and talk about three trips to the country, featuring mountains, high-altitude plains, inter-mountain valleys, and the llanos (pronounced yanos), the warm grassy lowlands similar to the Pantanal of Brazil.
The presentation will be in the community room of the Walker Library in Uptown Minneapolis. There's a parking lot underneath the library - enter off Lagoon Ave west of Hennepin - or you can find parking on the nearby streets. Some of us usually go out afterwards for a drink or to get something to eat, you're welcome to join us.
So that we can monitor the number of people attending, please get a free 'ticket' here from EventBrite.
If you are interested in giving a future presentation, please click CONTACT below to let the organizers know. We also have also been discussing the casual birding people often try to do while traveling; it would be hard for one person to do a presentation on that, so are thinking of a "team" presentation, where several people could contribute experiences, some photos, and stories. So click CONTACT and tell us if you would like to participate in that.