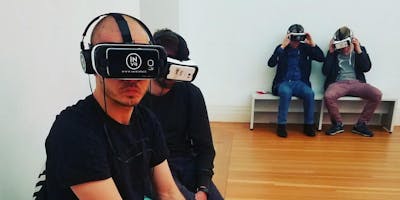 Take a Look Around: M.A. Multimedia Graduate Program Information Session
The Information sessions are designed to give you a chance to tour the facilities and ask questions about applying to the program.
MAP: https://goo.gl/maps/VBH6puoQKcq
The Master of Arts (MA) in Multimedia with a Concentration in Interaction Design is a unique interdisciplinary program that focuses on creating interactive applications and objects as part of a designed user experience. It emphasizes the creative and technical aspects of current and emerging technologies and their use in creating, controlling, delivering, and presenting compelling content in an interactive form. Plus, it draws from elements in a number of fields including art, computer science, journalism, psychology, and telecommunications.
In addition to a focus on Interaction Design (IxD), the master's degree in Multimedia draws heavily from User Experience (UX) and Human Centered Design (HCD) as well as design thinking strategies used to create interactive applications and objects as part of a designed user experience. Key program features include the following:


Access to student research grants and mentorship


An artists studio and fabrication spaces


An engaged faculty


Contemporary art and theory


Courses in emerging methods


Multimedia is a STEM field, which means it integrates elements of four disciplines: science, technology, engineering, and mathematics. This designation makes it possible for international students (with F-1 status) to apply for the 24-month Optional Practical Training Extension for STEM Students (STEM OPT). The program allows students who've completed their degrees to obtain practical training through jobs that directly pertain to their fields of study. ### Teamwork and Project-Oriented Goals
The MA in Multimedia with a Concentration in Interaction Design program embraces industry skills and practices by emphasizing teamwork and project-oriented goals. Students learn the skills needed to adapt quickly to new environments - a valuable asset for any profession. Because multimedia is a rapidly developing and rapidly changing field, the program focuses as much on the enduring creative process as on the transient technology.
The Multimedia master's is a two-year degree program. Most coursework is offered in the evening. During the first year, students develop a theoretical foundation in multimedia technology, enhance their creative skills, and learn to work effectively in teams. During the second year, small teams of students with various backgrounds and talents create innovative, professional-quality interactive multimedia projects. Ideas for group projects can originate from students, faculty, or external sources. Many of CSU Eastbay's student projects have won national and international awards.
More information at  - MULTIMEDIA.CSUEASTBAY.EDU