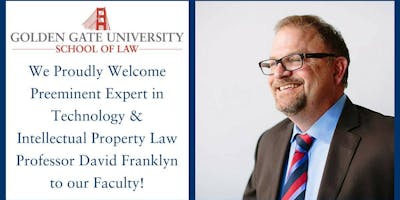 Turning Ideas into Assets: IP Worskhop for Start-ups
This workshop will engage students in a realistic simulation of the strategic and legal considerations that go into branding a start-up company and protecting its intangible assets. Participants will be introduced to resources and empirical approaches that gauge the effectiveness of potential company and product brand names and measure their ongoing impact on consumers. Participants will also learn the basics of trademark clearance -- ensuring a desirable mark is not already being used and is non-infringing -- and of trademark registration, at both the federal and state levels.  
David Franklyn is a prominent law professor who is considered one of the nation's preeminent experts on intellectual property and technology law. He joined the faculty of Golden Gate University in 2018. Since 2000, he has been the Director of the McCarthy Institute for IP and Technology Law now located at GGU. He consults with some of the world's leading companies and serves as an expert witness in trademark and IP cases. Franklyn has a joint appointment between the School of Law and the Ageno School of Business. This joint appointment will allow students to take classes that integrate legal and business principles.
This seminar is available in-person and online.