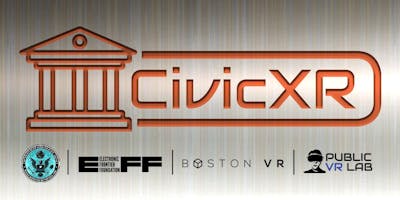 Civic XR: Using XR in the Public Interest
Join Boston VR & The Public VR Lab on Monday, December 10th from, 5:30-9:00 pm to demo and hear about ways civic-focused technologists are using VR/XR in the public interest space. 
Pizza and soft drinks will be served.
CivicXR Presenters
Dave Maass, Senior Investigative Researcher at the Electronic Frontier Foundation (EFF), from San Francisco, CA who will present on how EFF is protecting our digital rights and demoing Spot the Surveillance, a virtual reality experience that teaches people how to identify the various spying technologies that police may deploy in communities. www.eff.org
Dave Maass is a senior investigative researcher for the Electronic Frontier Foundation, where he covers issues related to police surveillance, criminal justice, free speech, transparency, and government accountability. In addition to deep-dive investigations, Dave coordinates large-scale public records campaigns, advocates on state legislation, and masterminds special projects, such as a science fiction collection and EFF's first VR project, Spot the Surveillance. Prior to joining EFF, he worked as a reporter for alternative newsweeklies in every state along the U.S.-Mexico border. He is also one of RollingStone.com's correspondents for San Diego Comic-Con. 
Kathy Bisbee, founder of the Public VR Lab, will present on how the Lab is building a new field for Community XR, developing a global network of training programs, accessibility, and digital inclusion. The Lab's facility will host the Meetup, share how users can become members to use free and low-cost VR equipment, and will offer demos of the Lab's Hubweek-featured immersive installation, Arrival: Immigration in Full Frame, the first national virtual reality (VR) filmmaking project gathering and curating immigration/migration stories of Americans from pre-1620 through 2018 and incorporating them into a visual XR/VR timeline and a curriculum for facilitating community dialogue about immigration/migration at community hubs such as museums, libraries and arts centers across the country. www.publicvrlab.com
Other presenters include researchers Jennifer Gradecki and Derek Curry from Northeastern University who created the Crowdsourced Intelligence Agency project designed to engage the public around surveillance and national security issues; Jeff Jacobson from BostonVR and Boston Children's Hospital; a representative and demos from Planned Parenthood's VR team, and other interactive audio, 360, and VR/AR developers who are using XR for civic-minded projects and solving public interest problems.
BIG, the Public VR Lab, BostonVR and HTC VIVE are hosting a Dev Jam on the Saturday before the meetup and special advanced Unity classes. Sign up here!
Contact Erin at brooklineinteractive.org if you have a civic XR project you'd like to demo at the Meetup!