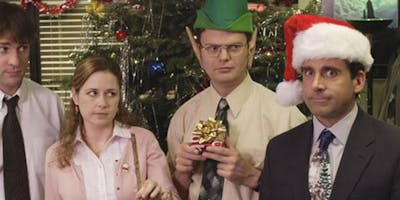 The Office Christmas Party Theme Trivia
Did you ever buy a $400 video IPod for Christmas? Do you know who nervously exposes themselves to Michael? Do you know what Phyillis made for the Yankee Swap? Grab your co-workes and come on down to The Harp and play The Office Christmas Party Trivia! There will be a lot of Holiday based questions regarding the show. 
HO HO HOPE TO SEE YOU ALL THERE! 
PLEASE NOTE: This is a FREE, GENERAL ADMISSON event that is OPEN TO THE PUBLIC. Claiming a ticket does not guarantee a seat at the venue, but rather allows us to gage participation and properly prepare to host the event without issue. We recommend you contact the venue to inquire if they take reservations.