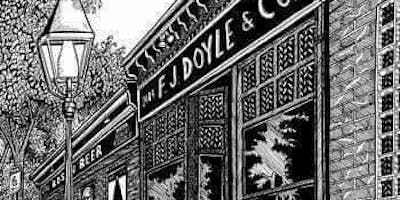 NogUp11 at Doyle's Cafe
The 2018 edition of #NogUp is
Monday, December 10, 2018.
Yes, that's right, it's #NogUp 11 - the longest-running
Boston-area Tweetup - now back for an ELEVENTH year!
Join us Monday, December 10, 2018 for a
social-media-organized holiday open house
complete with mingling and merriment!
Here are the details...
Monday, December 10, 2018 from 6:00 to 10PM at

Doyle's Cafe - Jamaica Plain (BOSTON) - Parking lot AND MBTA accessible
MBTA Accessible: 
Walking distance from Green Street Sta. or Forrest Hills Sta.on the Orange Line
Bus Route 42 - Forrest Hills Sta - Dudley or RugglesSta.via Washington St. 
Lots of Free Parking in our 3 parking lots!

Doyle's is wheelchair accessible 
---
As always:



NogUp is FREE admission




You get low-key, casual fun with the best-looking and most conversationally gifted folks in Boston




The festivities run from 6:00 to 10PM




Hugs from many people - including Jeff and Gretchen




A private function area where you can relax and have fun



---
Thank the fine folks at Doyle's by VISITING DOYLE'S ON FACEBOOK and using the #NogUp hashtag!
EVERYONE is welcome...this event is about people coming to Nog it up.
Thanks in advance! We're looking forward to seeing you.
As with the original NogUp, you are responsible for wearing pants and being presentable.
---
CHARITY CHARITY CHARITY --- CHARITY CHARITY CHARITY
Past #NogUp events have been attached to a charity. This year is no different. BUT... as we still have a strange and divisive environment, YOU decide where your charity dollars will do the most good. At NogUp, there is no judging. Just get involved and make someone's life a little better if you can.

That's it. See you in December!