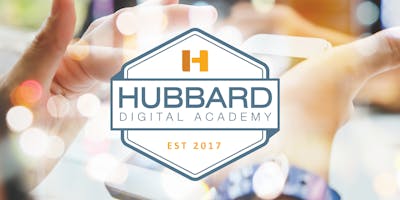 Hubbard Digital Academy
This energetic, educational event will be held at Radisson Blu at Mall of America and includes 10 breakout sessions, a full breakfast and lunch, free head shots, Special Keynote Speakers Think Great's Erik Therwanger and Google Certified Speaker Lee Regan, and giveaways throughout the day. Afterwards, we will host a 4:00 p.m. Happy Hour Networking event with a complimentary beverage. Attendees will create their own class schedule based on their interests.
The Hubbard Interactive team is made up of digital brand strategists, social media strategists, coordinators, designers, videographers, project managers and web developers. Hubbard Interactive has helped hundreds of Twin Cities businesses grow their brand, whether it's helping to negotiate Google, executing a successful social media marketing strategy, or setting up digital platforms, we can help you better connect your business with its followers.
VIEW THE FULL CLASS SCHEDULE: www.hubbarddigitalacademy.com
Photographs and Video Consent Release: By attending Hubbard Digital Academy you are hereby granting permission to Hubbard Interactive and its representatives to your voice, name, and/or likeness being used, without compensation, in video and photographs for the explotations in any and all media, whether now known or hereafter devised.