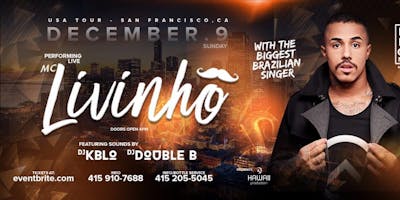 MC LIVINHO - BRAZILIAN FUNK
Hawaii Production has the pleasure to announce one more performance for you guys.
MC LIVINHO seeks to break down barriers and innovate with a style of funk that is filled with romanticism, sensuality and musicality. Now, he promises to get San Francisco moving with his hits.
The Brazilian funkster has become a YouTube phenomenon, with hundreds of millions of views. "Cheia de Marra", "Fazer Falta" and "Tudo de Bom" are just some of his hits that will be heard - and danced to December 9th at Love and Propaganda Nightclub.
More Info: 415 910-7688
Bottle Service: 415 205-5045