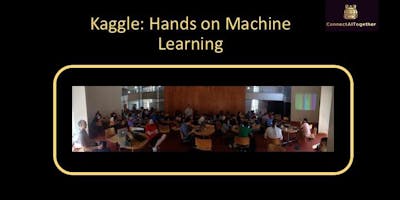 Kaggle: Hands on Machine Learning
We cordially invite you to join our weekly meetup to explore Machine Learning. 

First Timers will be introduced to the resources available through the group and assisted in getting started with Kaggle or a Machine Learning Problem of their choice. It's an informal space to get to know other ML and AI enthusiasts. 
Acquiring an expertise in Machine Learning requires hands-on working with a dedicated team. We facilitate team formation and provide an open working space. Our teams meet in person every Sunday and communicate virtually on slack during the rest of the week. 
We all have awesome ideas but we often procrastinate or can't find the right time/motivation/resources to execute. ConnectAITogether is a space to be accountable for each other and innovate together
FAQs
Where do we meet ?
We will be meeting in the lobby of CIC and head to a conference room.

Please plan on coming at 2:00 pm sharp. You will have to bring your ID. If there is no one to let you in please call 617-935-3706.