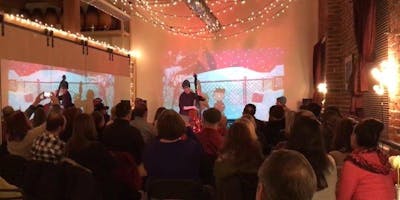 Family Friendly Charlie Brown Jazz Piano Christmas with Aidan Scrimgeour
Aidan Scrimgeour, a graduate of Salem Public Schools, leads a jazz piano trio in a performance of Vince Guiraldi's "A Charlie Brown Christmas." This is our first ever family performance!  Kids of all ages are welcome to come and dance along with the music and movie.  The event is hosted by the Salem Education Foundation and proceeds help support the Salem schools. Come enjoy an afternoon of holiday cheer and nostalgia!  Ticket price includes nibbles and cider in a cool downtown loft in Salem.  Come out for your Sunday afternoon holiday fun!  To pay by check, please contact SEF.
The trio performed the same program last year at Studio FOLI as well as Distler Hall at Tufts University as a fundraiser for Operation Warm.
Aidan Scrimgeour is a Boston-based multi-instrumentalist and composer who plays jazz and roots music. Growing up in Salem, Aidan was inspired and supported by the school music programs, the local music scene and the Salem Jazz and Soul Festival. After spending a couple years in the Contemporary Improvisation Program at New England Conservatory studying piano performance, he graduated with a B.A. in American Studies from Tufts University. In 2014, Aidan composed the music to "Only Human," an original musical that premiered in Ames Hall in Salem and will run again this June in Somerville. Also in 2014, he performed at the Jazz and Soul festival as a member of the Pocket Money Orchestra and has led several workshops as a part of the festival. He currently writes music and plays accordion for Pumpkin Bread, a five piece contemporary folk group, influenced by the Boston fiddle-music scene. Pumpkin Bread will release its second album of original music this spring and was recently featured on Brian O'Donovan's Backroom Series and "A Celtic Sojourn" on WGBH. Aidan was the piano faculty at the 2017 and 2018 Northeast Jazz and Recording Camp in Salem. He teaches piano privately and for the Soul Possibilities program in Boston and is the music director for several theater productions.