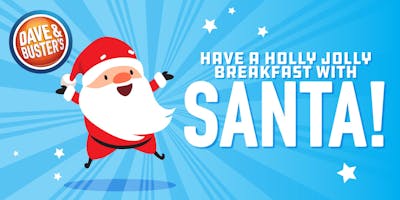 D&B Braintree MA - Breakfast with Santa 12/9/2018
Dave & Buster's Holly Jolly Breakfast with Santa!
Date: 12/9/18
**Santa's coming to D&B for 2 days in a row! Go to the following link if you'd like to purchase tickets for 12/8/18! 
https://www.eventbrite.com/e/db-braintree-ma-breakfast-with-santa-12818-tickets-52324602294
Time: 8:30 - 10:30 am
Location: Dave & Buster's Braintree, MA (near South Shore Plaza)
PRICE: $19.99
Breakfast Buffet includes: Scrambled Eggs, Sausage, Bacon, Roasted Potatoes, Bagels with Cream Cheese, Waffles, Orange Juice, Soda, Coffee and Tea.
Package also includes: $10.00 Power Card for Ticket Games and Unlimited Video Game Play (non- ticket games).  
Enjoy a craft station, a goody bag and a hot cocoa station! Don't forget to bring your camera to get a picture with Santa!
Please note that buffets are portioned per person and quantities are not all you can eat.  Tickets are non-refundable and must be present at check in of the event. 
If you have any questions, please contact our Special Events Department:
Name: Madison Hannon
Phone: 781-519-7906
Email: madison_hannon@daveandbusters.com