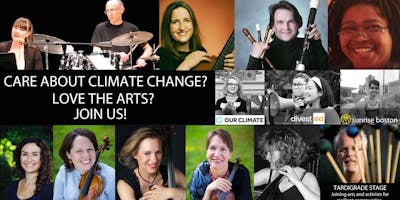 Tardigrade Stage #4: Arts for Climate
Live music and art installation to benefit youth-led climate action groups Our Climate, Sunrise Boston, and Divest Ed. We are bringing together artists with heart, activists with grit, and friends and neighbors who care and are ready to help.
---
Speaking percussionist with flowerpots: Craig McNutt, performing "To the Earth" by F. Rzewski
Original songs with voice, keyboard, and percussion: Georgia Bowder-Newton and Curt Newton
Virtuoso recorder and classical guitar: Aldo Abreu with Berit Strong. Performing music by local living composer Melika M. Fitzhugh and Pete Rose
String quintet (selections from Schubert's String Quintet): Amy Sims, violin. Velleda Miragias, cello. Rebecca Thornblade, cello. Colleen Brannen, violin. Anna Griffis, viola.
Art Installation: from Our Climate, designed by students across Massachusetts, and at Emerson College
Activists: Carrie Cullen (Our Climate), Alyssa Lee (DivestEd), and Filipe de Carvalho (Sunrise Boston).
Volunteers: Joseph Green, videography. Elaine Lin, organizing.
Barbara Lieurance, pianist and founder of Tardigrade Stage.

---
100% volunteer with 100% of donations going to organizations. While support of any kind is welcome, we encourage you to be as generous as possible in your choice of ticket (donation range is from $0-$200). Reserve your tickets in advance: there is limited seating.

Want to help?
-  Like Tardigrade Stage's Facebook page
-  Share this event on Facebook
-  Volunteer for future projects
The Democracy Center is partially wheelchair accessible, no accessible bathroom on site. Contact info@democracycenter.org or 617 492 8855 as needed.