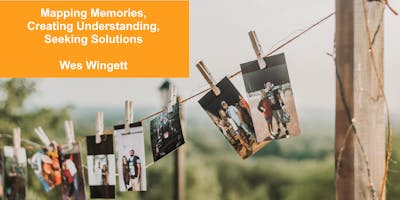 Mapping Memories,Creating Understanding,Seeking Solutions - Wes Wingett
PLEASE NOTE: This is a two day workshop which runs from 9 AM to 4:30 PM on December 8th & 9th.  If you are unable to attend both days, you can attend Saturday the 8th or Sunday the 9th only.  Please choose the ticket option that matches whether you will be attending both days or only one.
This didactic and experiential workshop will focus on understanding the development of lifestyle through the creation of a childhood memory map. The childhood memory map will focus on family, friends, school, and neighborhood. Lifestyle conclusions will be developed based on the personal perceptions of the components of the memory map. Life lessons learned in the family, with friends, at school, and in the neighborhood will be idetified. Components of the lifestyle conslusions and life lessons will be utilized in seeking solutions to current challenges. The workshop will be conducted using the theory of Alfred Adler and will emphasize empathy, encouragement, equality, ethics and education as the theoretical and practical. The workshop is open to the general public, psychologists, counselors, social workers, teachers, parents, and anyone interested in learning more about the concepts and applications of Alfred Adler's Individual Psychology.