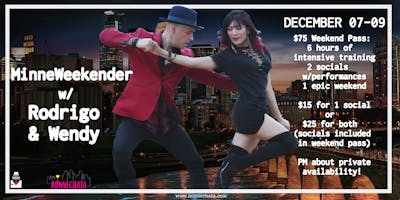 MinneWeekender w/Rodrigo & Wendy
You asked, we listened! Back by popular demand, Rodrigo & Wendy are excited to return to Minneapolis for an intensive bachata-focused MinneWeekender this December 7-9th, 2018. Based on the feedback we've gathered, the Intensive will be structured as follows:
Two tracks - pick the track that best matches your level of experience
BLUE TRACK =  *improvers/intermediate
RED TRACK = *intermediate/advanced
Each track is limited to 20 couples (40 people in each track)
$75 all access pass (includes all socials)
$25 for Friday & Saturday socials
$15 for 1 social (Fri or Sat)
Sunday social FREE
Friday
9:30 pm Intro Bachata Lesson
10:00 pm Social Dancing & Performance
Saturday
BLUE TRACK
11:00 - 12:00 Spin techniques
12:00 - 1:00  Dip Workshop
1:00 - 2:00 Bonus Hour
LUNCH
RED TRACK
3:00 - 4:00 Spin techniques
4:00 -5:00 Dip Workshop
5:00 -6:00 Bonus Hour
9:30 pm Intro Bachata Lesson
10:00 pm Social Dancing & Performance
Sunday
BLUE TRACK
12:00 - 1:00 Footwork
1:00 -  2:00 Turn Patterns
2:00 - 3:00 Bonus Hour
LUNCH
RED TRACK
4:00 - 5:00 Footwork
5:00 - 6:00 Turn Patterns
6:00 - 7:00 Bonus Hour
9:00 pm Social Dancing @ Monkon with Performance
*Improvers/Intermediate -
The BLUE track is for dancers who have a minimum of 1 year bachata experience and/or familiarity with the basic steps in 4/4 timing (e.g. step, step, step, tap). Knowledge of directionality is important at this level (e.g. the basic step can move side to side, forward & back, on a diagonal, in a circle, in place, on a v-step.) Knowledge of basic syncopated rhythms including cha cha steps, hook steps, step and heel, flares, glide steps, box steps, and hip rolls is also expected. With these fundamentals already under your belt, the blue track will focus on partnering techniques, safe body mechanics, important weight shifting concepts and styling tricks that you'll be able to apply in each module (spinning, dips, footwork and turn patterns). This track will move at a moderate pace.
*Intermediate/Advanced
The RED track is recommended for dancers who have at least 2 years of bachata experience and/or a strong grasp of the basics including directionality, musicality, and syncopations. This track will move at a fast pace and dancers will be expected to learn and integrate material on the spot. The aim of the RED track is to challenge the more experienced dancers with concepts and techniques that will take your social dancing to the next level. It is also designed to address performance elements and connection in order to help you master the art of social dancing.