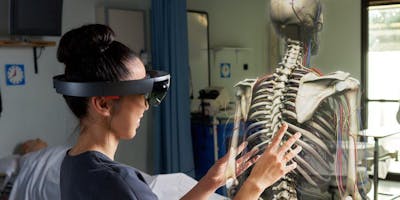 Women in AI & Mixed Reality Hackathon
Please join the Microsoft Mixed Reality, AI and Sensing Technology teams for the Women in AI & Mixed Reality Hackathon!
Developers, creators and anyone with a great idea are welcome. This is your chance to meet and network with the amazing leaders in Mixed Reality and AI. Microsoft engineers and designers will be on-hand to mentor attendees throughout the event. In addition, we will have a special keynote from Microsoft Technical Fellow, Alex Kipman, who has led four major breakthrough projects for Microsoft including Kinect and HoloLens.

The theme of the Hackathon will be to create experiences that help society. More information on the themes will be shared during the evening reception.
There will be prizes for the best project! We're excited to see what you build!
HACKATHON SCHEDULE
Friday, 12/7
5.00PM: Registration, doors open and networking
6.00PM: Keynote by Alex Kipman, Technical Fellow, Microsoft 
6.30PM: Introductions, code of conduct and themes
7.30PM: Team formation and networking  - during this time attendees are welcome to also get a tour of the Mixed Reality Capture Studio.

9.00PM: Adjourn
Saturday, 12/8

9.00AM: Hackathon registration/doors open + breakfast

12.00PM: Lunch
5.00PM: Dinner + Drinks
9.00PM: Adjourn (Reactor closes but participants are welcome to continue working on their projects offsite)
Sunday, 12/9

9.00AM: Hackathon registration/doors open + breakfast

12.00PM: Lunch
2.00PM: Projects must be completed by this time. Presentations and demos of your project by each team will follow.

3.00PM: Judging begins
4.00PM: Winners to be announced

5.00PM: Adjourn
IMPORTANT
Please ensure you bring your VR-enabled laptops, cables and adapters. Should you wish to borrow a Windows Mixed Reality Immersive Devkit and motion controllers, we can certainly accommodate you!
Please ensure your laptop has the latest version of Unity (not a beta version) and Visual Studios 2017.
We look forward to having you join us!