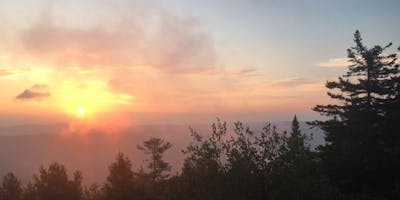 "The Journey of Growth" Enneagram Workshop
"The Journey of Growth (Levels) Workshop"  is one of four Enneagram Institute Authorized Workshops taught by Riso-Hudson Certified and Authorized Teachers. The four workshops create a standardized curriculum so that those attending anywhere—in Sydney, London, San Francisco or Hong Kong, for example—will get the same content, exercises, and orientation.
Working with the Dynamism and Levels of the Enneagram
The Journey of Growth (Levels) Workshop is about harnessing an understanding of the vertical dimension of the Enneagram, with all the dynamic inter-relationships of the types, to help us in our journey of psycho-spiritual growth. We explore how the Levels of Development, which provide a vertical dimension to the personality types, make clear the "inner logic" of each type and reveal how the various type traits and motivations as well as the movement along the arrows form an interrelated whole. All of these complex inter-relationships weave a subtle and profound web of inter-connections among the types which gives us guidance for our inner growth.
At their most profound, the Levels are the measure of each person's degree of fixation within his or her own type, that is, the degree with which one is able to be Present vs. being swept away by past conditioning, reactivity, and defenses. Working with the Levels and internal dynamism of the Enneagram not only provides recognition for where we are in our journey of growth, but also guides us toward greater health and transformation.
The Levels were discovered by Don Riso in 1977 and subsequently further clarified with Russ Hudson. The Levels provide a way of tracking each type's movement along a continuum toward more freedom, consciousness, expansiveness, and Being in the higher Levels—or toward more reactivity, mechanicality, and self-destructiveness in the lower ones. By introducing this "vertical axis" to the types, the Levels explain some of the most important things that we find in human nature—fluidity and change, resistance and conflict, freedom and compulsion—among many human qualities.
In this Workshop, we explore how people "move" from one Level to another, along with other complex "horizontal" movements predicted by the Enneagram. We also see how the main characteristics of each type are related to the degree of contact with Essence as seen in the Levels. Exercises, music, and meditation are used as a way of grounding the information in our personal experience and to deepen our understanding. This Workshop is particularly valuable for those who wish to have more clarity and insight for using the Enneagram in personal growth.
The Levels of Development innovation is the only Enneagram work to be specifically endorsed by Ken Wilber, who has stated that only with this vertical dimension taken into account, does the Enneagram system move toward being a complete psychology. Don Riso and Russ Hudson are the only Enneagram authors to write and teach about the Levels, thus giving their work an extraordinary explanatory power and making a wide range of practical applications possible. ~from the Enneagram Institute
About Jenny Campbell
As a Riso-Hudson Certified and Authorized Teacher, I am delighted to be able to offer the same teachings and practices that sparked my own spiritual awakening in 2008, when I attended my first Enneagram Training with Don Riso and Russ Hudson. All of these workshops are exquisitely designed to take you on a journey that will radically change how you see yourself and others, awakening you to a more expansive and connected sense of yourself and your world. Click here to learn more about Jenny and her Enneagram work.
About Ben Campbell
I will be assisted by my 23-year-old son, Ben Campbell, who in addition to growing up steeped in the wisdom of the Enneagram since the age of 13, is currently pursuing Professional Certification with the Enneagram Institute,® and completed the official five-part Training Program in July 2018. Ben has assisted me in three previous Authorized Workshops and we've gotten great reviews about our complementary styles. Click here to learn more about Ben and his Enneagram work with young adults.
FAQs
How can I contact the organizer with any questions?
Please contact Jenny Campbell at 774-217-4195 or email enneawake@gmail.com; or Ben Campbell at 774-217-9340 or email bencampbell2789@gmail.com.
Do I need to have Enneagram experience, or know my Enneagram type, to attend and benefit from this Workshop?
You do not. You need only be intrigued by the description enough to sign up! If you'd like to get a jump on learning about the Enneagram, the two resources we recommend are The Wisdom of the Enneagram by Don Riso and Russ Hudson, and the Enneagram Institute's website. You can also contact Jenny or Ben by phone for a conversation about whether this Workshop is right for you. 
Does the price include meals or lodging?
It does not. Our intention is to keep costs low and make this life-changing experience available to as many people as possible. We will offer hot water, tea, cold water, and some snacks. You are welcome to bring a bag lunch or go out to one of the many restaurants and take-out places near the hotel.
What is your refund policy?
100% refunds, minus a $50 processing fee, are issued for cancellations 31-45 days before the Workshop.
50% refunds, minus a $50 processing fee, are issued for cancellations between 11-30 days before the Workshop.
No refunds will be issued within 10 days of the Workshop. Exceptions may be made at the sole discretion of the organizer.
What are my transportation/parking options for getting to and from the event?
The Courtyard by Marriott Boston-Natick is located about 30 min from Boston's Logan Airport, and .6 mi from Logan Express, the airport shuttle. It is not safe to walk this route so please plan to use a ride service. Similarly, there are many restaurant options near the hotel but it is not safe to walk. There is plenty of parking at the hotel.
Do you have discounted rooms at the hotel?
We do not have a discounted block of rooms as the majority of attendees live close enough to commute. Some local attendees may be willing to host out-of-towners, so please contact Jenny if you are interested.