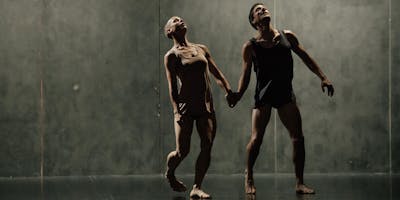 another piece apart
another piece apart
at The Dance Complex, Julie Ince Thompson Theatre
536 Massachusetts Avenue
Cambridge, MA 02139
Saturday, November 17, 2018 | 8pm
Sunday, November 18, 2018 | 7pm, Free BEE Dance Pre-Performance Discussion with the Artists 6-6:45pm
ONLINE PRESALE: $21 General Admission, $13 BDA/Student/Senior/Military




PURCHASES AT THE DOOR: $26 General Admission, $17 BDA/Student/Senior/Military
Jennifer Nugent and Paul Matteson, both Bessie Award-winning performers and former Bill T. Jones/Arnie Zane Company dancers (2009-2014), are known for their phenomenal partnering work, creating duets that are intense, forceful, and passionate.  Their latest duet, another piece apart, reflects on a history of a fractured togetherness and blurred boundaries.  The movement tones and fluxes in and out of knotted touch.  This is the Boston premier of this piece.
Jennifer Nugent and Paul Matteson premiered their first duet Fare Well at Danspace Project in 2006, beginning an ongoing collaboration.  They danced together with David Dorfman Dance, Lisa Race Project and the Bill T. Jones/Arnie Zane Company.  They have taught at numerous festivals including The Bates Dance Festival, The American Dance Festival, and SALT Dance Fest.   Jennifer is currently on faculty at Sarah Lawrence College and regularly teaches in NYC at Gibney Studios and through Movement Research. Paul is full-time faculty at The University of the Arts in Philadelphia. Their latest duet, another piece apart will premiere in October at New York Live Arts before coming to The Dance Complex.  Their latest duet, another piece apart, premiered in October at New York Lives Arts before The Dance Complex.
"Their resilience, their ability to duplicate moves when they dance side by side, and the speed with which each can accommodate to the other's new ideas bespeak understanding and respect."
-Deborah Jowitt, The Village Voice
BEE Dance Pre-Performance Discussion: Sunday 11/18 6-6:45pm
At 6:00pm at the Sunday evening performance of another piece apart, join the artists themselves, Jennifer Nugent and Paul Matteson.
Part of the BEE dance series, this talk is free and open to the public, with reservations recommended. All "BEE" attendees receive a complimentary refreshment with purchase of a ticket for that evening's performance.
*You do not need to see the show to come to the BEE, though we do hope you will!
---
Online ticket sales end 2 hours prior to the start of the event.  Pre-registration is only available online via credit card payment.  Tickets may still be purchased at the door, generally for a higher rate, using cash, check, or credit card.

Late seating is at the discretion of the artist and The Dance Complex, and may not be available after the start time of a performance. In general, we advise arriving at least 15 minutes before the show start time. Doors open 45 minutes prior to show, at which time our bar is open in our lobby space.  After the show has begun, entry is not guaranteed and refunds are not available. You may receive a refund through Eventbrite up until 24 hours prior to the event.

Our ground-level lobby area and performance space as well as our second floor Julie Ince Thompson Theater are ADA compliant.  There is a motorized lift that can bring one person at a time from the ground floor to the second floor where our theater is located should a guest wish to use it.  There is no elevator. Accessible seating is available in the first row of our four-row seating area. Steps lead to the other rows of seating. Gender-neutral accessible bathrooms are located on both the ground and second-floor levels of the building.

If you have any further questions or concerns about refunds or ticketing, please contact Kristin Wagner, Front of House Manager, at kristin@dancecomplex.org.  If you have any questions or concerns regarding accessibility at The Dance Complex, please contact Kara Fili at kara@dancecomplex.org.