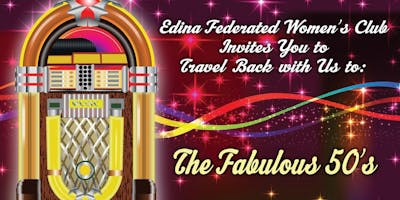 Feds Fest 2018 - The Fabulous 50's!
Feds Fest 2018 Invites You to Travel Back with Us to The Fabulous 50's
As Edina Federated Women's Club approaches our 50th year anniversary we encourage you to help us continue our long tradition of giving back to the local community.
All proceeds from this event will benefit YouthLink and CornerHouse two very worthy and important organizations.  
CornerHouse listens and offers hope and healing to those silenced by trauma and violence. CornerHouse is a place for children to go to disclose their experiences of abuse in a client-centered and trauma-informed environment. They provide three main areas of service, including forensic interviews for children, teens and vulnerable adults who it is believed have been sexually or physically abused.
The mission of YouthLink is to support, empower and change the trajectory of young people experiencing homelessness onto pathways of self-reliance.  YouthLink operates the only full-service Drop-In Center in Minneapolis for transition-age youth (18-24) experiencing homelessness. This may start with a healthy meal, clean socks, better shoes, washing clothes, taking a shower, hygiene items, lockers, getting some gently used clothes from the clothing closet, and/or a bus token. 
This unforgettable CASUAL evening will allow you to take an authentic trip back to the 50's with The Holy Rocka Rollaz! The days of pony tails, poodle skirts, the jitterbug, jukeboxes, and ice cream sodas are sure to bring back memories for everyone.
It's the classic early rock 'n' roll and rockabilly of Elvis Presley, Buddy Holly, Chuck Berry, Johnny Cash (and many more) that you want, played just the way these legends played it…we have found your dream band! Minnesota's own Holy Rocka Rollaz bring back the sound, the look, the memories and nostalgia of one of America's most treasured eras. There's nothing but PURE AMERICAN ROCK 'n ROLL about them.
Please join us in this fun filled evening while also supporting two very worthy organizations!!