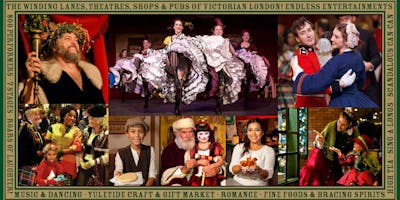 The Great Dickens Christmas Fair 2018 - 6 Weekends & One Friday


                          A Victorian Christmas Card come to Life!


Visit London - at the historic Cow Palace Exhibition Halls!  Enter the winding lanes of Victorian London and immerse yourself in a world of music halls, theatres, pubs, dance parties, and charming shops overflowing with hand-made holiday treasures.  Enticing aromas of roasted chestnuts and hearty foods fill the air.  Discover holiday revelry in this lamp-lit city brimming with over 800 lively and colorful characters from the imagination of Charles Dickens, the pages of history, and the sometimes saucy world of the Victorian stage. Open from 10 AM to 7 PM, six weekends and one Friday from Nov. 17 - Dec. 23, 2018.

Convenient BART Shuttle from Glen Park Station every Fair day.
For general questions about the event, please refer to the Dickens Fair Website or our Frequently Asked Questions & Useful Answers page.
Ticket Info FAQs
What is 'Select Day' ticketing?
Like many other theatrical events, tickets must be purchased for the actual day you wish to attend. Each day has a limited number of tickets available to ensure the comfort of all who attend.
Can I gift tickets to friends and family?
Yes! Tickets are fully transferable and can be gifted to any person of your choosing. They are an ideal way to send holiday cheer to loved ones.
Can I gift season passes to friends and family?
Unfortunately season passes are valid for the original pass holder only and must be presented with a valid photo I.D.
Are there parking fees?
A parking fee of $12.00 per car (cash only) is charged at the entrance to the lot to the Cow Palace.
Is the Fair handicapped-accessible?
Yes. Wheelchairs are also available for rental at the 'Cloak Check' inside the Fair for $10.00 per half day (4 hours) or $20.00 per full day (4+ hours) on a first-come, first-served basis.
Are there discounted group tickets available?
We offer discounted group tickets for groups of 20 or more. Please contact Golden Gate Group Tickets at tickets@gggrouptickets.com for more information.
I have additional questions about the ticket or the event, who can I contact? 
First, check our detailed event Frequently Asked Questions page. If you still have event- or ticket-related questions, please email tickets.dickensfair@gmail.com and we will provide a timely response (Monday-Friday 9AM-5PM Pacific).