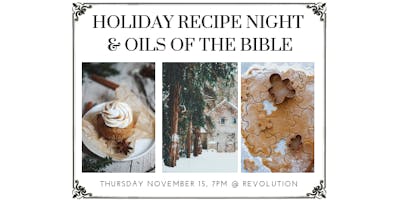 Holiday Recipe Night & Oils of the Bible Class
Join us on Thursday November 15 for a Holiday Recipe Night & Essential Oils of the Bible Class!
Used to treat every conceivable illness known to man, Frankincense was valued more than gold during ancient times. The Bible, both the New and Old Testaments, contains over 200 essential oils. In the Old Testament Moses was given a recipe for a holy anointing oil. It included the essential oils of myrrh, cinnamon, calamus, and cassia as well as pure olive oil. 
Come and learn how to apply these oils for modern day uses and how the oils of the Bible can bless you, your family and your health.
Cost is $15, which includes a take-home holiday roller as well as holiday treats provided by the Rev Team, recipes and teaching.